Leos Carax Collection, The: Boy Meets Girl / Night Is Young / Pola X (UK)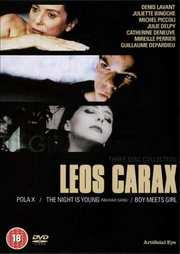 A selection of features from the French filmmaker
Certificate: 18
Running Time: 341 mins
Retail Price: £29.99
Release Date:
Content Type: Movie
Synopsis:
Boy Meets Girl (1984):

Leos Carax`s brilliant feature debut follows the relationship of an aspiring filmmaker (Denis Lavant), who has just been left by his lover and a suicidal young woman (Mireille Perrier), who is also reeling from a failed romance. He becomes obsessed with her from the first time he hears her voice over an apartment intercom. Eventually, they meet in person and embark on an affair that has disastrous consequences. Visually reminiscent of early French New Wave films, and beautifully shot in black and white by Jean-Yves Escoffier (Nurse Betty, Good Will Hunting), the film features some of the most striking night scenes of Paris.

Night Is Young (aka. Mauvais Sang) (1986):

Leos Carax`s second film confirmed his status as one of the most talented young French filmmakers of his generation. Set a few years before the 21st century, Mauvais Sang (Bad Blood) tells the story of Alex (Dennis Lavant), the teen-age son of a murdered criminal who is enlisted by two former associates of his father to steal a valuable serum for an AIDS-like disease. Alex`s mission becomes complicated when he begins to fall in love with one of the associates` young mistress (Juliette Binoche) and he becomes involved in a dangerous game of cat and mouse with a rival gang woman known only as "The American."

Pola X (1999):

Based on Herman Melville`s 1852 novel Pierre: or the Ambiguities, filmmaker Leos Carax presents an ambitious tale of one man`s search for the truth in a vague world. A young, successful author (Depardieu) is haunted by a recurring dream of a woman obscured in darkness. After discovering the identity of this mysterious figure, he finds his life spiraling downward into a world of lies, ambiguities and masquerades.
Special Features:


Video Tracks:
Widescreen Anamorphic 1.85:1
Widescreen Anamorphic 1.66:1

Audio Tracks:
Dolby Digital Stereo 2.0 French

Subtitle Tracks:
English

Directed By:
Leos Carax

Written By:
Leos Carax

Starring:
Julie Delpy
Hans Meyer
Denis Lavant
Juliette Binoche
Michel Piccoli