Urusei Yatsura: Movie 3 - Remember My Love (UK)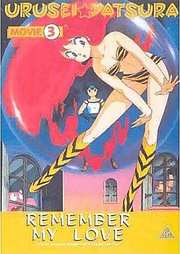 Insanity, Japanese Style!
Certificate: PG
Running Time: 94 mins
Retail Price: £14.99
Release Date:
Content Type: TV Series
Synopsis:
In the first Urusei Yatsura movie, Ataru found himself a reluctant bridegroom trapped between two Alien pricesses. In the second Urusei Yatsura Movie, he found himself trapped in a dream of Lum`s making. Those were just warmups: This time he finds himself...herbivorous??

When Lum was born, a postal screwup caused a witchy friend of the family not to get an invitation to the celebration. Believing herself snubbed, she lays a curse on Lum - that she will never be happy with her True Love.

In the present, a new Amusement Park has been built in Tomobiki, and opening day finds the whole gang sampling its pleasures. At a magic show, however, Ataru gets turned into a pink hippopotamus - for real!

When Lum attempts to track down the magician that transformed her darling, things start to get very weird, very fast...
Special Features:


Video Tracks:
Standard 1.33:1

Audio Tracks:
Dolby Digital Stereo 2.0 Japanese

Subtitle Tracks:
English

Directed By:
Kazuo Yamazaki

Written By:
Rumiko Takahashi
Tomoko Konparu

Starring:
Kazuko Sugiyama
Saeko Shimazu
Akira Kamiya
Toshio Furukawa
Fumi Hirano

Music From:
Micky Yoshino

Director of Photography:
Akio Wakana

Executive Producer:
Hidenori Taga

Distributor:
MVM