Review of Rumbling Hearts: Vol.1
Introduction
Now here`s an anime genre that is rarely seen in the West. Don`t get me wrong, there is plenty of love and romance available, but it is usually dressed up with humour and slapstick. The typical love story will take place in a harem anime, with the main character surrounded by several members of the opposite sex. The relationship between the two lovebirds will be fraught with missed opportunities, crossed wires, pratfalls, mistaken intentions, and all the pitfalls that fate can provide. Holding hands would be a major series event. The first kiss would be saved for the series finale, or a spin-off OVA, or the movie. Realism isn`t even a consideration. Then last year, Manga Entertainment released She, The Ultimate Weapon. It was a story of two teenagers falling in love, and the ups and downs of their relationship. There was intimacy, honesty of emotion, and a distinct lack of slapstick. The backdrop of an apocalyptic war, and the fact that she was a doomsday weapon engineered by the military, with a tendency to shoot off missiles during stressful moments might have added a smidgen of unreality, but it was definitely a more mature outlook to love and romance.
Now Revelation bring us Rumbling Hearts, an anime series over three volumes that treats relationships with realism and integrity, and it`s set in the real world. People fall in love, become intimate, then things go wrong, and they have to deal with the fallout of that. Love and guilt, pain and joy, could it be that real life has been animated? This disc subtitled `Betrayal Is A Bitch`, offers five episodes with which to answer that question.
Rumbling Hearts tells the story of four high school friends, Takayuki and Haruka, Mitsuki and Shinji. Haruka has a crush on Takayuki, and it takes their friends` efforts to set them up on a date. Takayuki wavers initially, but with considerable meddling from Mitsuki and Shinji, the two eventually fall for each other. Soon they are a couple, and Takayuki is even invited to meet Haruka`s family. Her precocious younger sister Akane is thrilled to have an `older brother` to tease, but their brief relationship is to end in tragedy. Takayuki is late for a date, and arrives at the station to see an ambulance pulling away from the scene of a traffic accident.
Three years later and Takayuki and Mitsuki are now an item, but it is practically a clandestine relationship, tinged with guilt. Takayuki hasn`t moved on, is still living in his claustrophobic apartment from high school, and now works part time at a restaurant. Mitsuki just about gets him to start living his life, convincing him to move in together with her, but then they run into Akane on her way to the hospital. Haruka has finally woken up from her coma, and she wants to see Takayuki again. Only for her, no time has passed, they are still students one year away from university, and she is still Takayuki`s girlfriend. What makes it more stressful is that the doctor insists that they maintain the fiction for Haruka`s sake. It isn`t easy for Akane, who believes that Mitsuki and Takayuki betrayed her sister.
After episode 3, each episode ends in a brief comedy skit starring the waitresses from Takayuki`s restaurant.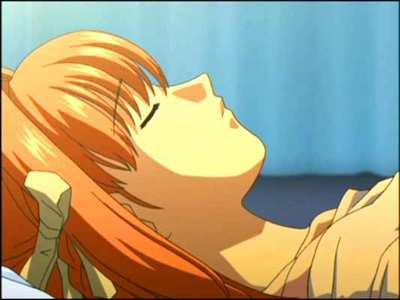 Video
Rumbling Hearts gets a 4:3 regular transfer. The image is clear and sharp throughout, and the only grumble is some hideous aliasing during the credit sequences. The show itself remains unaffected. The character design for the anime is very sympathetic, while there are plenty of atmospheric touches used here and there to give the show dimension, dappled sunlight through leaves, underwater sequences, that sort of thing. It is a dialogue heavy show, so it does seem more static than the average anime, but this impression is quickly dispelled as the story progresses.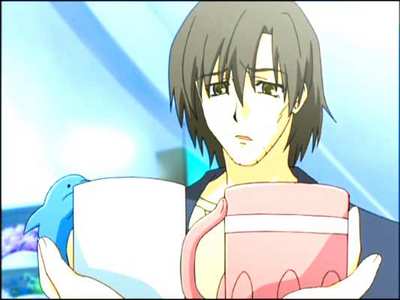 Audio
You just get your basic DD 2.0 English and Japanese, with translated English subtitles. Since it is a dialogue heavy show, not so action oriented, there are no complaints about the subdued soundtracks. The music is gentle and suits the story well. My first instinct is always to go with the original language track, but I must mention the English dub, as it is one of the best I have heard. Rumbling Hearts is an emotionally intense show, and the English language cast give excellent performances for the main characters. This is one anime that is worth watching in both languages.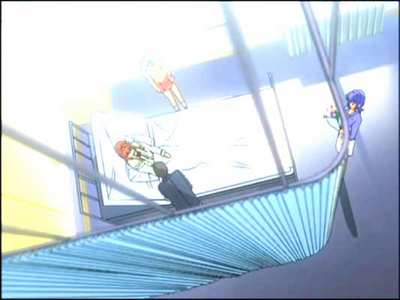 Features
Just your standard anime extras I`m afraid, textless credit sequences, and trailers for Fruits Basket and Spiral.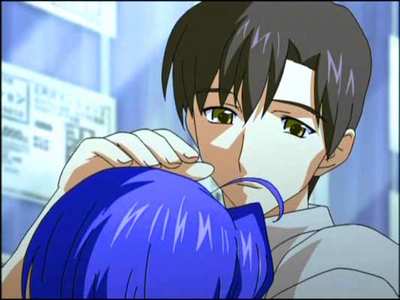 Conclusion
You just don`t get shows like Rumbling Hearts in the UK, which by itself is reason enough to seek this disc out. That the show is really quite good, with well-written and sympathetic characters, and a thoughtful story, doesn`t hurt one bit. I found myself engrossed in this emotional tale of tortured romance, and if I had a sudden attack of `hay fever` at a couple of key moments, then I`m not ashamed to admit that either.
Allusions to the Morrissey song aside, this could very well have been a soap opera storyline, with a girlfriend in a coma prompting much hand wringing and wailing. But Rumbling Hearts has a distinct deficit of melodrama, as it almost underplays the more emotional moments, and in doing so makes them more effective. This isn`t like She, The Ultimate Weapon, in that the main characters are in tears for much of the run time. The episodes on this disc are a far more balanced affair. Indeed the first two episodes really concentrate on building Haruka and Takayuki`s relationship, so they are practically light and tender. But you can see the seeds of future heartbreak being sown, as Mitsuki obviously has a crush on Takayuki, and even though she defers to her best friend Haruka, that unrequited love keeps on growing. Also while Takayuki does eventually fall for Haruka, he does waver about it, and even afterwards you can see that Mitsuki is in his thoughts. These are innocent thoughts that would mean nothing in any other relationship. It`s only Haruka`s accident that sends things in dark directions.
When we catch up with the characters three years later, they`ve become slaves to their guilt. Takayuki`s ambition and drive has vanished, and it seems that Mitsuki is with him more through pity and the guilt that she herself feels. The accident affected them both; Mitsuki`s potential athletics career vanished, while Takayuki had an emotional breakdown that threatened his sanity. With Mitsuki still in love with who Takayuki used to be, she`s determined to help him get better, and it`s no surprise that they eventually seek solace in each other`s arms. It takes them three years to get to a point where life is moving forward again, and then Haruka wakes up.
This first disc very much sets the scene, introduces the characters and gets the ball rolling. Even given that, it manages to invoke strong emotions by the end of the fifth episode, so as the character dynamic unfolds in the subsequent volumes, I`d expect the story to get only more intense.
What I appreciated about Rumbling Hearts was the emotional honesty. In a genre more typified by hyperbole and exaggeration, what these characters go through feels very real. The characters are all sympathetic, and it`s easy to understand why they choose the paths that they do. Haruka and Takayuki feel very right together, while seeing Takayuki`s later relationship with Mitsuki engenders empathy for the guilt that drives them together, and the hope that they can overcome the past. It`s also easy to understand why Akane loathes them, and seeing the key moments that drove the characters to this point certainly got me a little misty eyed. As this disc ends, Haruka has regained consciousness, and it seems that what precarious stability Takayuki and Mitsuki had, will completely vanish. It means waiting for the next volume to find out.
The only thing that bugs me about this series so far is the stock anime character, smart and moody, with a cigarette hanging permanently from the lips. In this case it`s Haruka`s doctor. She smokes everywhere, including in the hospital. She probably even smokes in the O.R. Fortunately she is only there to move the story along.
Once things start to get heavy in the third episode, it`s nice to lighten the mood occasionally, and in this case we get the small comedy skit at the end of each part. It stars the waitresses from Takayuki`s restaurant, as they get up to all sorts of strange shenanigans. It`s almost a relief to have a chuckle to wind down after being taken on an emotional roller coaster, and actually works to emphasise the more emotional moments. The skit after episode 5 is a gift for Trekkies, with better CGI than the unlamented Enterprise series.
Once you get the audience to care about the characters, you`ve won half the battle. Rumbling Hearts manages that in its first five minutes, and the gripping story just doesn`t let go. I thoroughly enjoyed this more adult anime tale (It probably doesn`t need saying by this point, but it`s not for kids, with mild sexual content and adult themes.) And if you are a fan of anime, then this is a must buy. You`ll be hard pressed to find its like here in the UK. I do feel though that it will be more rewarding to watch it in one sitting, rather than in instalments. Other than that, it`s highly recommended.