Goodies At LWT, The (UK)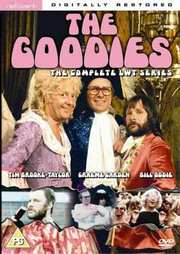 The acclaimed comedy trio`s complete output for ITV between 1981 and 1982
Certificate: 12
Running Time: 182 mins
Retail Price: £24.99
Release Date:
Content Type: TV Series
Synopsis:
Graeme Garden, Tim Brooke-Taylor and Bill Oddie are back again in the much loved comedy series that made them household names. A magnificent selection of side-splittingly funny episodes from three of TV`s most popular 1970`s comedians, this is British TV comedy at its best.

Episodes include:

Snow White 2: When the audience gets bored with The Goodies pantomime productions of Cinderella and Sleeping Beauty they decide to put a bit more pep into the next one. Guest stars David Rappaport and Richard Briers

Robot: Disappointing news at the end of the financial year leads Graeme and Tim to only one decision - they must sack Bill and replace him with a robot! Guest stars David Rappaport

Football Crazy: Things turn grim when Bill`s footie-mania turns into fully-fledged hooliganism, but help is at hand when Tim takes up the post of Chief of Police in Charge of Football Hooliganism. Guests stars Wayne Sleep, Fred Dineage and Kenneth Wolstenhome

Bigfoot: Tim and Bill go on a global trek to discover the missing Arthur C. Clarke, but when they find him they discover he bears more than a passing resemblance to Graeme...

Change Of Life: Going into a destructive rage during his birthday celebrations, Bill is feeling old. In fact, all three of them are feeling old but salvation comes in the form of `Dr. Grayboots - Beautician to the Raddled`! Guest stars David Rappaport

Holidays: Domestic tensions come to a head and the trio decide they need a holiday to help them chill out. A bungalow in the seaside town of Dunsquabblin`, however, is precisely not what the doctor ordered...

Animals: Watching Tim`s success in training people whilst dressed as Barbara Woodhouse, Graeme launches a new line of animals at Graybags` Pet Shop - people dressed as dogs, and Bill is the runt of the litter!
Special Features:
PDFs of each script
Stills gallery
Commemorative booklet (written by Andrew Pixley)
Archive interviews
Bonus episodes of Doctor In The House and From The Top
Music Performances

Video Tracks:
Standard 1.33:1

Audio Tracks:
Dolby Digital Mono English

Directed By:
John Howard Davies
Jim Franklin
Bob Spiers

Written By:
Tim Brooke-Taylor
Graeme Garden
Bill Oddie

Starring:
Tim Brooke-Taylor
Graeme Garden
Bill Oddie

Soundtrack By:
Bill Oddie