Silver City (UK)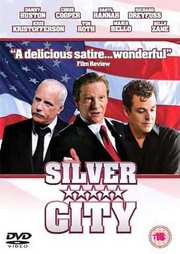 Vote early. Vote often.
Certificate: 15
Running Time: 128 mins
Retail Price: £5.99
Release Date:
Content Type: Movie
Synopsis:
American iconoclastic director John Sayles (Lone Star) takes aim at contemporary politics and corporate influence, with more than a vague reference to George W. Bush and Republican politics, in this neo-noir detective story.

Grammatically challenged, "user friendly", gubernatorial candidate Dicky Pilager, has just launched a campaign for the citizens of the New West. But things take an unexpected turn when the taping of an environmental political advert ends up with Pilager reeling in a long-dead corpse. Enter his ferocious campaign manager, Chuck Raven who hires an idealistic journalist turned rumpled private detective, Danny O`Brien, to investigate potential links between the corpse and the Pilager family`s enemies.

In the tradition of Chinatown and the great `film noirs`, Danny`s investigation pulls him deeper and deeper into a complex web of influence and corruption, involving high-stakes lobbyists, media conglomerates, environmental plunderers, and undocumented migrant workers.
Special Features:
Trailers
Web Link

Video Tracks:
Widescreen Anamorphic 1.78:1

Audio Tracks:
Dolby Digital Stereo 2.0 English

Directed By:
John Sayles

Written By:
John Sayles

Starring:
Maria Bello
Tim Roth
Thora Birch
Daryl Hannah
Kris Kristofferson
Michael Murphy
Danny Huston
Richard Dreyfuss
Chris Cooper