Review of Tactics: Series 1 Part 1
Introduction
The supernatural is a fertile source of material for anime. Ghosts and goblins abound in the countless series and films that have been made over the years, the animated medium allows for the imagination of the storyteller to run riot. From long running shows like Yu Yu Hakusho, more versatile storytelling in Vampire Princess Miyu, comic shows like Ghost Sweeper Mikami, to darker, edgier stuff like Le Portrait De Petite Cossette, Requiem From The Darkness, and of course Urotsukidoji, there is a wealth of such anime to choose from. It helps that Japanese folklore is replete with spirits and demons, with countless manifestations of the same. There will always be a ghost story to tell. This year Manga Entertainment are taking two bites at the spooky cherry, with the edgier Tokko, and this lighter in tone series, Tactics. This is also one of those titles that get a wallet friendly release from Manga, with the series split into two half-season boxsets. Part 1 contains the first thirteen episodes of Tactics, with extra features to boot.
Tactics is set during the turn of the century (19th to 20th) in Japan. Kantaro Ichinomiya works as a writer by day, but his real vocation is confronting evil spirits and unworldly beings that terrorise the innocent. From an early age he has been able to see and converse with the various supernatural beings that co-exist with regular folk. A young girl named Yoko, who just happens to be a fox spirit, runs his household, and early on in his adventures he releases, and is served thereafter by a goblin named Haruka. He also helps the Edogawa family and their youngest daughter Suzu takes a shine to Haruka, and also accompanies them.
Disc 1
1. The Black Goblin Awakens
Since he was very young, Kantaro has known that his spiritual strength will increase if he can find a long nosed goblin. It`s when he goes to a certain shrine rumoured to have the spirit of one sealed within, that he runs into trouble. The Edogawa family has come under a curse, their young son has been encased in ice, and when Kantaro studies the scene, he realises that there is a supernatural cause.
2. Bizarre Love at Yoshiwara
Kantaro`s publisher shows up, reminding him of an imminent deadline. Reiko also tells him that he can earn some additional income if he writes about his supernatural encounters. It`s just that she`s heard of a haunting in Yoshiwara. After a love affair ended in tragedy, odd things began happening around a Geisha named Kosome in her bereavement. Meanwhile, Kantaro`s relationship with the goblin Haruka gets off to an uneasy start.
3. Mountain Fairy Tale
After the success of the previous story, Reiko turns up with another rumour worth investigating. This one affects Kantaro personally though, as children are vanishing in the village where he grew up. Yoko and Suzu Edogawa see this as a chance for a holiday, but things become more serious at the village, when it is Suzu who disappears.
4. The Forbidden Portrait
Kantaro`s magazine articles are attracting attention, and soon someone is at the door begging for deliverance from a supernatural menace. Sei-ichi`s wife Fumi has been cursed by a photograph that is slowly devouring her soul. She is actually vanishing from the real world, and the more she disappears, the more vivid the photo becomes.
5. Dancer In The Darkness
Kantaro takes his friends to his hometown to help a childhood friend. Yumeyakko is a geisha with a troublesome client, one who behaves very oddly. Aoyagi is an acclaimed doll maker, whose creations are almost alive.
Disc 2
6. The 9:07 pm Streetcar Ghost
Six months after an accident in which a tram was destroyed, a ghostly streetcar is haunting the streets of Tokyo. The question is, how is it linked to a sad little girl, desperately waiting for her father to return?
7. Alluring Call
A daughter of a powerful political house has gone missing, and Kantaro has been employed to handle the matter with utmost delicacy. But Kantaro is out of sorts, rubbing his friends the wrong way. Behind it all is a malevolent plot to take over Japan.
8. She`s A Fox
An argument over a pastry leads to Yoko storming out of the house in a huff, vowing never to go back. She tries hard to make a life for herself in the outside word, but she`s caught the eye of an exploitative magician. It`s at times like this that you learn who your true friends are.
9. Yome Island Mystery Tale
A class reunion reopens old arguments between Kantaro and his rival Hasumi, who refuses to believe in the supernatural and sticks to modern thought. Their teacher Numata sets them a challenge, to solve the mystery of the man-eating island, Yome.
Disc 3
10. The Spirit Wind`s Words - Part 1
A series of mysterious deaths sees the four heroes travel to a wind chime festival Kyoko Suzakuin is the wealthy widow who asks for Kantaro`s help in the ceremony, when the village oracle will foretell the village`s future. Her own sickly daughter Miyabi serves as the oracle, with the reluctant assistance of her twin sister Mai. Kantaro sees the chance to marry into some serious money.
11. The Spirit Wind`s Words - Part 2
There`s been another unexplained death, and all three members of the Suzakuin family are behaving very oddly. Miyabi`s health takes a turn for the worse, but she insists on performing the divination. Despite her antagonistic outlook, Mai is desperate for her sister`s health to improve, and she has a plan to make that happen at any cost.
12. Roses and Tengu
Eliminating an infestation of little demons from the home of President Sakurazawa, of Sakurazawa Textiles, is proving harder than Kantaro anticipated. But the President has set her eyes on Haruka, while he is reacting strangely to the atmosphere in the mansion.
13. The Nightmare In The Sea Of Trees
While on training manoeuvres in the forest of Fuji, an army squad come across the missing battleship Unebi miles from the nearest ocean. It`s just the prelude for tragedy. The few survivors of the encounter speak of a horrific demon-eating goblin. It`s bound to be a trap, but Kantaro and Haruka have to investigate. Waiting for them are a couple of familiar faces who are still after Haruka.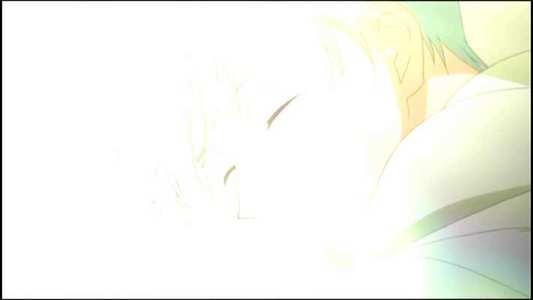 Video
Tactics gets a typical anime transfer from Manga Entertainment. The 1.78:1 anamorphic image is clear and sharp throughout, and the only thing to really pick up on is a smidgen of aliasing. The character designs are well thought out and attractive, and the world has a bright, pastel feel to it that serves the stories well. It isn`t the biggest budget anime around though, and the limitations soon become apparent with some static scenes, and the constant reuse of Kantaro`s exorcism animation. It`s just as prevalent as a magical girl transformation in shows like Sailor Moon.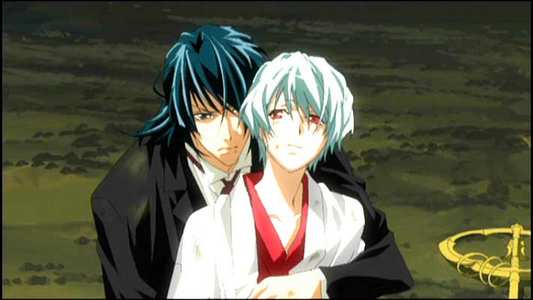 Audio
It makes a change to see a Manga release without DTS, but it makes little difference as the available surround tracks, DD 5.1 English and Japanese give robust performance that suits the animation well. As usual my preference was for the Japanese track, but what I sampled of the English dub seemed well performed and natural. Tactics is really propelled by a couple of splendid theme tunes, and the incidental music suits the tone of the show. You will also find DD 2.0 Stereo English and Japanese tracks if you so require. There is also an optional translated English subtitle track.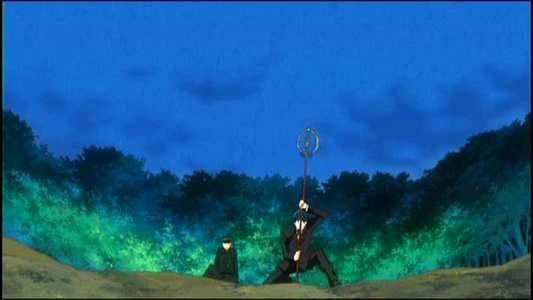 Features
These three discs come with the usual animated menus, and there is a Play All Option that many will find convenient. Disc 1 is devoid of extras to make up for the fifth episode.
Disc 2
You get a photo gallery with some 20 odd images, as well as a Player Cards section, which essentially grabs an image of a character and provides a little info about them.
You`ll also find Japanese adverts for merchandise from the show, the Japanese TV commercial, and the textless opening and closing credit sequences.
Finally on this disc is a 10-minute interview with the voice cast. Koki Miyata (Kantaro) and Takahiro Sakurai (Haruka) spend the time talking about chocolate.
Disc 3
Here you will find the usual collection of Manga trailers.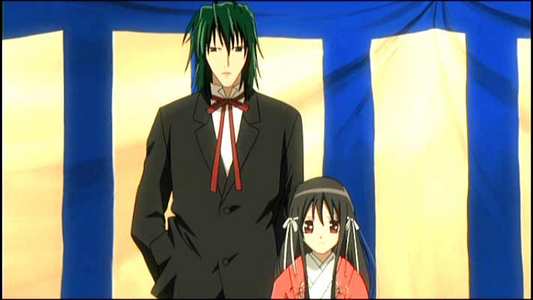 Conclusion
Take a bunch of stereotyped characters, put them into a monster of the week format, add a soupcon of variety with a wide selection of ghost stories, season with a healthy amount of comedy, and you have Tactics, an anime series that you have probably seen before. Familiarity would breed contempt, were it not that Tactics is actually entertaining. It`s like Vampire Princess Miyu in the variety of stand-alone ghost stories early on in the series. Each episode explores another aspect of mythology, with our heroes facing off against some sort of supernatural menace, as they try to solve the oddest of mysteries. There is a hint of character growth as the episodes progress, and come the midpoint of the series, there is the beginning of an overarching storyline.
The stereotypes begin with the main characters; Kantaro is the bright, optimistic type, with a playful cunning streak. Of course he has a bit of a dark past, as he can interact with the supernatural realm. In a useful shorthand, his bracelet jingles whenever something spooky is afoot, and whenever a big bad demon is about to strike, his scar aches. To contrast this bright chirpiness, we have Haruka, the dark, brooding, devilishly handsome demon-eating goblin. Yoko is the typical sassy, female character interested in wealth, and prone to letting her fox ears pop up whenever she is excited. Or she goes the whole hog and becomes a fox. Suzu is the cute kid who develops a crush on Haruka, and winds up tagging along on most of the adventures, only to wind up kidnapped or possessed, and in need of rescue.
The supporting characters are no different, Reiko is Kantaro`s publisher, and takes great delight in tormenting him with deadlines and opportunities to make money that never pan out. There is a Mountain God who shows up from time to time, incredibly effeminate, and in love with a cute little goblin called Muuchan, whose appealing attributes are looking cute, and going "Mew". With the familiar characters all in place, the sense of humour is practically predictable, with the gags, farce, pratfalls, and crossed wires all conforming to that anime shorthand. The only thing that really stood out for me about this show is that the relationship between Kantaro and Haruka, goes beyond the platonic, and veers off into Starsky and Hutch territory, with plenty of meaningful glances and heartfelt conversations. Of course this is nothing new to anime, but it being my first encounter with such, I thought I`d make a note of it.
Tactics remains a run of the mill monster of the week show, until disc three, where the plot begins to thicken. With the first two-part episode, the show ventures into edgier territory, with the twin girls not at all behaving like children. The end of the story also sets up a potential future storyline. The final two episodes on this set also are edgier, and with longer-term ramifications. A set of villains arises that look as if they will plague Kantaro and Haruka through the subsequent episodes, and their fascination with Haruka bodes ill.
Tactics is an anime that looks great, the animation is strong, and the character designs excellent. The show`s theme tunes really give it an energy, but the final product doesn`t really live up to this promise. Tactics is clichéd and well worn. It just about gets through on entertainment value alone, and it`s really only the final four episodes on this set that lift it above average. Tactics is certainly worth a go if you have an anime gap that you simply have to fill, but if you are discerning, then it may leave you feeling a little let down.