Review of Complete Monty Python`s Flying Circus, The: 16 Ton Megaset
Introduction
If you were to try to illustrate the benefits of a university education, where would you start? Doctors? Teachers? Scientists? Civil servants? How about the conveyor belt of comedic genius from Oxbridge in the 1960s and 70s? Arguably starting with David Frost, John Bird, Alan Bennett and Peter Cook with shows like `That Was The Week That Was` and `The Frost Report`, the Cambridge Footlights produced many fine comedians.
The Cambridge Footlights attracted five key members at roughly the same time: Graham Chapman, John Cleese, Eric Idle, Terry Jones and Michael Palin. Chapman, Cleese and Idle were all Cambridge graduates, with Palin and Jones Oxford alumni. With their different personalities, they formed an unlikely alliance and, when joined by Terry Gilliam, conceived, wrote and performed a TV show. Giving little thought to what it would actually be called, although titles such as `Owl Stretching Time`, `The Toad Elevating Moment` and `Bun, Wackett, Buzzard, Stubble and Boot` were considered, the director general of the BBC informed them that, due to time constraints, he had already told the TV listings that the show would be called `Flying Circus`. Michael Palin liked the name Gwen Dibley, which he had picked up in a newsletter at his parents` house, but others thought that a slippery and sinister name was more applicable, hence `Python`, though where `Monty` came from is a matter of much debate.
Keen to avoid what they saw as the established nature of sketch comedy: they felt that Peter Cook and Dudley Moore performed brilliant sketches that were always better than the punchlines, so decided to forego them altogether and even finished one with John Cleese declaring that "This is the silliest sketch I`ve ever been in" before walking off! Sketches were also interrupted by Graham Chapman`s `Colonel` describing it as `Far too silly`, a 16-ton weight falling on someone, or by a knight with a dead chicken hitting a protagonist over the head! Terry Gilliam`s role in `Monty Python` enabled the show to link sketches with Gilliam`s unique and surreal animation, which he had first exhibited on `Do Not Adjust Your Set`.
As each British member was an Oxbridge graduate, there was an intellectual subtext to much of the anarchic and irreverent humour. The Pythons split up to write: Graham Chapman, a qualified doctor, wrote with John Cleese, a law graduate; Michael Palin wrote with Terry Jones, combining their expertise in modern history and English; leaving Eric Idle, another English graduate, to write alone and Terry Gilliam able to work on his cartoons independently.
The influence of Monty Python on comedy and even culture is impossible to quantify; `Pythonesque` is in the Oxford English Dictionary, although what it actually means is probably open to debate, with the Pythons themselves unsure of the definition.
This set contains all four series of the show, with the 45 episodes spread across 14 discs and two bonus discs containing the Steve Martin hosted `Parrot Sketch Not Included` containing the best of Monty Python`s Flying Circus, 1982`s brilliant `Live at the Hollywood Bowl`, the 1998 reunion `Live at Aspen` and the German language episode `Monty Python`s Fliegender Zircus` from 1972.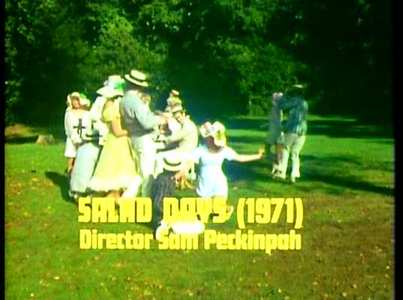 Video
The box proudly announces that "Now in glorious digital DVD format so that you, the digital aficionado, can enjoy the original scratches, pops and hisses with crystal clarity." This is perhaps doing the set a disservice when considering the budget and the fact that the early episodes are nearly 40 years old, the transfer is as good as it`s going to get and improves through the four series. The grain and lack of clarity are to be expected and in no way detract from the material.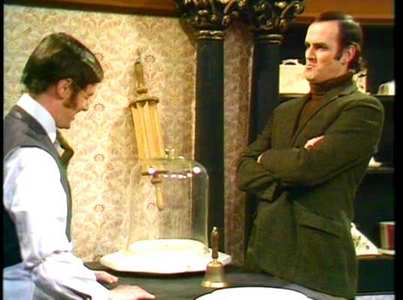 Audio
A perfectly fine soundtrack with slight amounts of pops and hisses (presented in crystal clarity!) although this is to be expected given the age of the stock.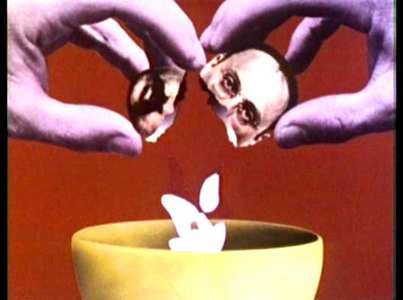 Features
Nearly every disc contains a weblink to Pythonshop.com and `Meet the Chaps`, which gives you brief information and film highlights for every Python. Certain key words are explained dictionary style in `Pythonism`, there are a few different galleries of Terry Gilliam`s artwork, there are clips from throughout the series under different headings and several of the discs contain an interactive quiz with questions for Gumbys or Upper-Class Twits. The menu for each episode contains `useless tidbits`: an interesting piece of information from that episode.
These are all fun and interesting although it is slightly annoying that they are spread over the 14 discs and frequently repeat themselves. However, this does mean that you can put in a random disc, watch the episodes and then look at the features which includes clips from the rest of the box set, spurring you on to watch another disc.
An earlier release only contained the 14 discs with the shows on whereas this contains two bonus discs, taking this set to the full 16 ton weight.
The `Parrot Sketch Not Included` is a decent `best of`, similar to the `And Now for Something Completely Different` film, only bookended by Steve Martin.
`Live at the Hollywood Bowl` is an excellent live show with many of the group`s best sketches plus some not shown on TV; this is a feature in itself with a running time of 77 minutes.
The HBO produced `Live at Aspen` is a funny and revealing reunion show with all six members, although Graham Chapman is in an urn! The living Pythons discuss the origins of the group, the films and end with a live rendition of `Always Look on the Bright Side of Life`.
Also contained is episode one of `Monty Python`s Fliegender Zircus`: the show that the Pythons wrote for German TV; they wrote it and it was translated into German and given to them in phonetic form. There are some excellent sketches on it and, because it is subtitled in English, it is still accessible and funny for a non-German speaker - how the German and Austrian audiences reacted to it, I`m not sure.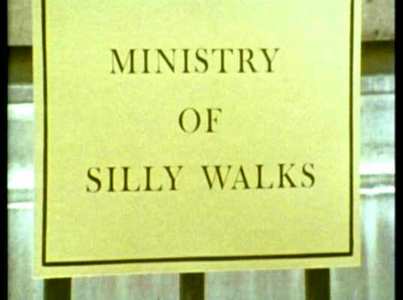 Conclusion
I was introduced to Monty Python at an early age when my parents recorded `Monty Python and the Holy Grail` from the TV and it was a film that I fell in love with and watched endlessly, learning every line. They also had the cassette of `Live at Drury Lane` which they heavily censored, removing the bulk of the expletives, and again I listened to the recording so much I knew it off by heart. Strangely though, I only saw a few of the TV episodes and had several of the early ones on VHS. Watching this box set, with over 22 hours of episodes, I realised how much I`d missed out and that the material performed on the `Live at Drury Lane` recording first aired on TV.
It also occurred to me how much more there was to `Monty Python`s Flying Circus` than `The Parrot Sketch`, `The Lumberjack Song`, `The Ministry of Silly Walks`, `The Spanish Inquisition` and `Spam`! `Monty Python`s Flying Circus` ran for four series and nearly didn`t last that long as John Cleese apparently felt that they were running low on material, wanted to leave after the second series and had to be convinced to stay on for the third. By the fourth series, which was simply called `Monty Python`, Cleese had left to realise an earlier idea he had about a Torquay hotelier and Chapman`s appearances were infrequent due to his alcoholism. Despite this, the last series contains some excellent writing and, although not as anarchic as the previous three, is a very good series with some brilliant skits.
I don`t know whether I`ll watch the whole set in a twenty-nine hour marathon again, but it`s one that contains so many comedy gems and sketches that generally fly under the radar and it will stay in close proximity to my DVD player.
British comedy at it`s finest, an excellent extras package and a must-have for any Python fan.