Review of Salaryman Kintaro: Part 1
Introduction
Plagiarism is underrated and cruelly maligned. Especially when it is your own work that you are cribbing from. Now that I`ve finally got my greedy mitts on the region 2 version of Salaryman Kintaro: Part 1 and noting that the contents are identical to the region 1 release, it seems logical to indulge in a little cut and paste. Fortunately, the technical aspects require revision, but my feelings about the anime and the episodes on this disc haven`t altered, so neither has the bulk of the review.
Japanese anime is a veritable feast of story ideas, with the fantastic and exotic becoming commonplace in the world of animation. Browse in your local anime emporium and you`ll find sci-fi set in the distant future, stories about cyborgs, spaceships, post apocalyptic Earth. You`ll find madcap comedies where ineffectual nerdish teenage boys can attract legions of sexy females, or you can find intelligent stories that challenge the very perception of reality, as well as historical epics, horror, Westerns, even erotica. In other words, whatever the human mind can envisage can be brought to life in animation form. Salaryman Kintaro is the story of a white-collar worker in a construction company. Anime also apparently handles the mundane.
The white-collar worker drives modern economies, and in Japan more than most. It is a whole subsection of society that serves in offices the nation over. These modern day serfs are expected to swear loyalty to a company in return for a job for life (at least that was the idea before the last recession). The company always comes first, above and beyond lesser matters like personal well-being or family. Twelve-hour days are commonplace, and the work culture extends beyond work hours, as it is expected for work colleagues to socialise when the day is through to build team spirit. The Salaryman is the vital grist that the wheels and cogs of Japanese industry grind up and spit out.
Salaryman Kintaro is the reaction to this culture of overwork, first explored in the manga by Hiroshi Motomiya. It was later brought to the screen in a long running television show, as well as a feature film. This anime of 20 episodes joined the franchise in 2001, and follows the career of Yajima Kintaro, who once led a bike gang of 10000 members and had built a reputation as a tough guy. Becoming a father changed all that, and now raising his son alone after the mother died in childbirth, he`s vowed to become respectable. This means getting a job as a salaryman at Yamato Construction, but he can`t quite lose that alpha male attitude. Prepared to solve his problems with force when necessary, and lacking any subservience, Kintaro is as far as possible from the traditional image of the salaryman. Artsmagic release this first volume of 4 episodes, with 4 more volumes to follow.
1. Kintaro Joins A Company
Yamato employee Mizuki is enjoying a night out with his colleagues when he gets into a drunken altercation. Before he suffers too much damage but no little humiliation, he is rescued by a passer-by. The next day, Yajima Kintaro starts work as a salaryman at Yamato Construction, where the man he rescued works. A tough, plainspoken and forthright individual, he doesn`t seem the ideal image of the salaryman, especially when he is welcomed by the former members of his gang who organise an impromptu drive by. While his attitude raises a few eyebrows, he scores a hit with the company secretaries when he comes to work with his baby son.
2. Kintaro Has A Fight
A night out with his colleagues turns into a spot of psychoanalysis over a Mah-Jongg match. The team-building exercise is interrupted when a bunch of Yakuza thugs pick a fight. Following Kintaro`s lead, the workers give a good showing, much to their own surprise. But their spur of the moment exuberance is punished when the Yakuza pay a visit to Yamato Construction the next day. It seems that the new employee has brought shame to the company.
3. Kintaro Steals A Girls Heart
The CEO has invited Kintaro on a fishing trip, and he explains to his wife how he hired the man who saved his life. The fishing trip goes well, but when Yamato`s family come to visit, his granddaughter has to be rescued by Kintaro after a car accident. Yuki develops a crush on Kintaro, but Kintaro is struck by Yamato`s aide Harima`s resemblance to his dead wife.
4. Kintaro Runs Wild
On the train ride home, Kintaro bumps into an old gang member. Toru is now a drag queen, a radical change from the days that he used to ride with Kintaro. Toru relates Kintaro`s story and how he changed his life for the better.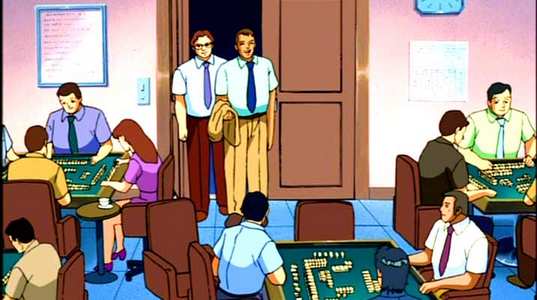 Video
Artsmagic present Salaryman Kintaro on a two-layer PAL disc. Unlike the Region 1 disc, the layer change comes between episodes 3 and 4.
The picture is a 1.78:1 anamorphic one, and it is a significant improvement over the Region 1 disc. The compression artefacts, pixellation and flashing lines that plagued the US disc are absent here. What we get instead is a rather splendid standards conversion from NTSC to PAL, with no significant artefacts, and the only legacy of the conversion is a slight added softness to the image. There`s no ghosting or jerky pans, and only an occasional hint of aliasing. The animation itself isn`t up to the standard of most modern anime, and indeed were it not for the anamorphic format, I`d take it for a much older programme. The main character designs are distinctive, but some of the supporting characters seem a little generic. The animation is simple and lacks dynamism. It`s reminiscent of older shows where time would be spent on animation only when the story demands it.
That said, the story isn`t adversely affected by this stylistic choice, and it soon fades from the awareness.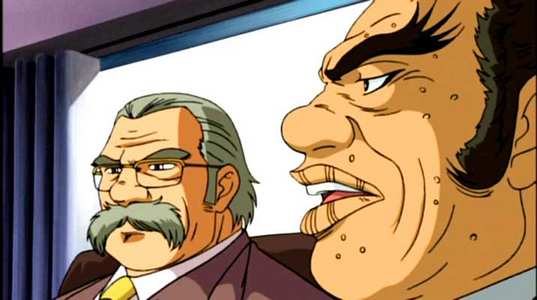 Audio
You get a choice of a DD 5.1 or DD 2.0 Japanese soundtracks. Again the sound is an improvement over the region 1 disc, with the surround track exhibiting much better balance. There still were the odd moment where dialogue was subdued by effects or music, but this was so rare that I never had to resort to the stereo track. Salaryman Kintaro is another anime that has a toe tapping theme tune, although the end theme is a little too Chris De Burgh for my liking. As with all the Artsmagic DVDs that I have encountered, there are two subtitle tracks with the programme, differing only in the size of font. It`s a useful addition that takes into account difficulties of vision and differing screen sizes. The subtitles were legible throughout.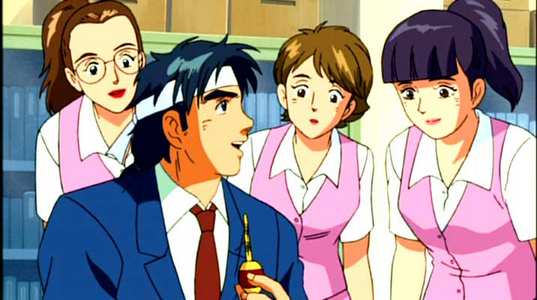 Features
There are a couple of short interviews on this disc, the first being a 6-minute chat with the Director Tomoharu Katsumata. Here he discusses his career and the current state of Japanese animation. Also on this disc is an interview with producer Toru Nakano and he talks about how technology is changing anime, as well as working as a producer.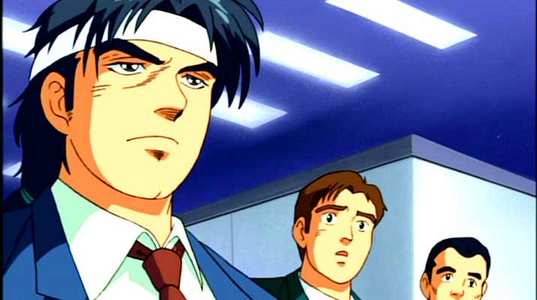 Conclusion
Compared to many modern anime, Salaryman Kintaro looks positively archaic, stinting on the eye-candy quotient in favour of a simplistic retro look that may turn off potential viewers. Similarly, there are no massive mechas, no robots, and no ultimate battles against evil to attract an audience. It`s worth a second look however, for where Salaryman Kintaro lacks pizzazz, it more than makes up for it in terms of story and character. It`s early days yet, as these opening episodes serve to establish characters and relationships, and set up the players in the stories to come.
With the culture of long work hours becoming more and more prevalent here in the UK, Salaryman Kintaro is just as relevant for UK audiences as it is in Japan. There, salarymen are almost emasculated as workers, whose lives revolve around the company they work for. Kintaro serves as a hero figure for these downtrodden individuals, with the strength of personality and conviction to reclaim some independence for the common workers. Yamato Construction is a microcosm of industry, where the President and Board of Directors have sidelined the kindly father figure Chairman who started the company. These former government officials have used their contacts to award the company lucrative contracts in the public sector, and thus ensured their tenure at the head of the company. They now rule the workers with an iron fist, and the majority of the salarymen fear their bosses. When Kintaro joins, he begins to inspire some of his co-workers to try and change things. These four episodes as well as introducing the characters, highlight the factions fighting for control of the company at the top, as well as the divisions among the employees.
Kintaro is a curious character. He is essentially the superhero in this anime. His sheer confidence, arrogance, and aggressive nature carry him through the minefield of office politics triumphantly on every occasion. His reactions are always extreme, it`s always what we would want to do in his position, rather than what we would actually do. As confident as he is in his professional life, his personal life is less so. A single parent raising a son after the mother`s death, he still worships Akemi, but in these episodes, we see that he is beginning to move on, as well as learning of his tragic past. I have to admit that the character wasn`t initially appealing, it`s hard to like someone who is pretty much flawless, but it`s the effect he has on the people around him that draws interest. We get to meet his co-workers and in a couple of cases, their families and it`s how they relate to him that is of significance, although at times the story did seem almost a soap opera.
Salaryman Kintaro isn`t the most striking anime available, but the story is an appealing one with rounded characters that grab the attention. These four episodes introduce us to the characters and set the stage for what looks like a promising story. If you wanted proof that anime could be more than giant mechas, tentacle monsters and flashy visuals, then look no further than this disc. This disc is a significant improvement over the region 1 release, with practically all of the niggling technical flaws ironed out. Worthy of your attention.