Review of Break-Up, The
Introduction
Gary (Vince Vaughan) is a bus tour guide in Chicago, working with his two brothers in a company called Three Brothers. They have ambitions to take the Chicago tour market `by land, sea and air`. Gary lives with Brooke (Jennifer Aniston), the manageress of an art Gallery owned by Marilyn Dean (Judy Davis).
One particular night, the couple have invited both sides of their family over for dinner and Gary has instructions to bring back 12 lemons. With the excuse of a hard day, Gary hands over 3 lemons to an exasperated Brooke who wanted them to create a lemony-type centre piece for people to gawk at around the dinner table. Gary, being a completely uncreative person, suggests that Brooke just puts some lemon in the chicken or create her centrepiece a little smaller and put it in a glass.
Dinner is awkward, particularly when Brooke`s brother Richard (John Michael Higgins) decides to turn the dinner party into a karaoke/beatbox session by blasting out an a cappella version of Yes` Owner of a Lonely Heart. Things get worse when Gary and Brooke start a heated discussion over the lack of a pool table in the apartment. The tension was already rising, but boils over after everyone has gone when the two get into a fight over the washing up, which leads Vince to spend the night on the couch.
Brooke feels that Vince doesn`t really do anything around the house whilst she works, tidies up, cooks and generally does everything-else. Vince can`t even do one thing right in picking up the right amount of lemons. Sound familiar? Vince on the other hand thinks Brooke does not appreciate his work/career/aspirations and that all she does is nag when he needs to relax after a hard day. Now I know THAT sounds familiar.
Both still love each other but are too stubborn and proud to back down. What now transpires is a long and painful break up with both sides invoking different strategies to make a point to the other. Brooke wants to make Gary jealous so that he sees he`s losing her and recognises the need to change. Gary tries not to show it, but he is badly hurt and makes up for it by reverting to single behaviour; shooting pool, playing video games and playing strip poker with friends and some girls. Not quite sure what his point actually is, but there must be one…
Both are supplied with completely useless or ignored advice by their friends. Brooke is coached by both married friend Addie (Joey Lauren Adams), while Gary has manly talks with best friend Johnny O (Jon Favreau) who just seems to want to hit someone.
Despite their love for each other, pride and stupid behaviour gets in the way and the relationship hits that down turning spiral that can only end one way. Or can it…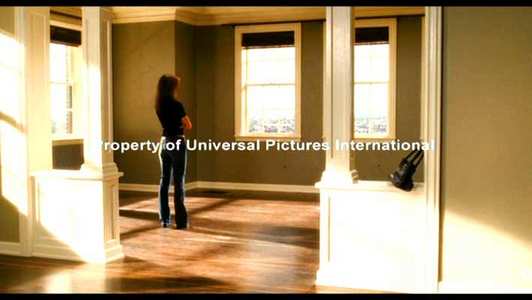 Video
Glossy picture, pristine as you would expect. Once again though we get a review disc with that incredibly annoying Property Of… message right through the middle of the screen. Clearly no-one cares just how annoying this is or planned the effect on the dvd as the extras have the title of the scene shown right across the centre of the screen too. Well done Universal.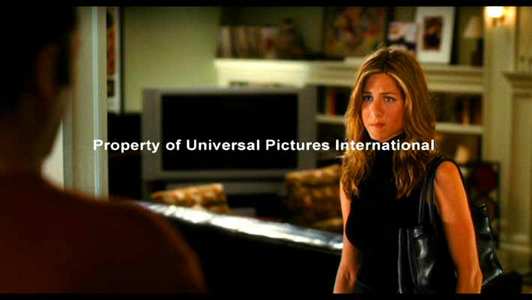 Audio
Surround track that doesn`t really utilise the surrounds that much. It`s clear though and the film is also well-subtitled.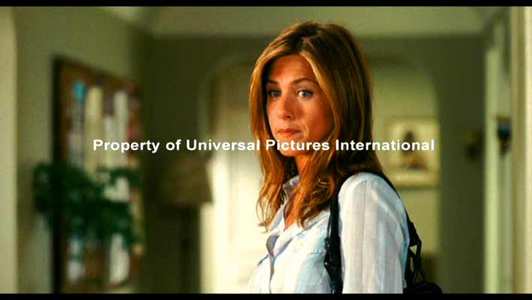 Features
One major complaint here, the menu. Starts off fine, despite the now obligatory anti-piracy ad and a new anti-aids ad from David Beckham et al, with the menu allowing you to choose between the manly side of Vince Vaughan or the feminine side of Jennifer Aniston. Both lead to the main menu with slides of both characters, very different feel to them. Annoying thing is that if you hit the Menu button at this point to check out the other side, the disc restarts and you have to go through the copyright warnings and all the ads again. Maybe the review disc, but extremely annoying and sloppy.
Deleted scenes, extended scenes, outtakes and alternate ending - I know that the ending included here didn`t test well and that a lot of the omitted material was cut for the usual reasons of pacing, but damn, I really wish they had all been included - and I honestly believed that hell would freeze over before I ever said that.
Commentary with Vince Vaughan and Jennifer Aniston - not sure if they were trying to play this in character but I could well believe another kind of break-up happened after the recording of this commentary. It should be a joint commentary, it`s billed that way, but Aniston can barely get a word in, in fact Vaughan talks right over her on more occasions than I could count. Interesting but a bit one sided.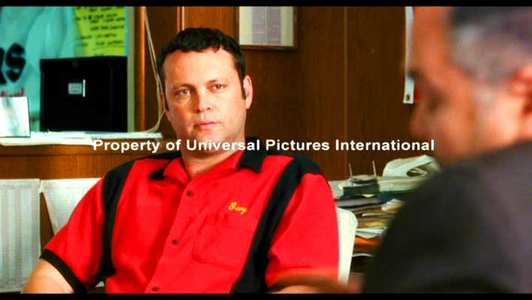 Conclusion
Pressured by PR bods to get something up quickly and not having a particular penchant for `chick flicks`, I was expecting not to enjoy this and therefore slate it. Something happened though and despite what turned out to be a painful viewing experience, I found that I really enjoyed this. Let`s get one clear: this is not your stereotypical rom-com. There is no wrapped up happy ending that leaves you with a warm (or sickly schmaltzy) feeling when the credits start to roll. I hate giving away endings, but it`s worth mentioning it for this film because when I looked at the feedback on iMDB the one common denominator was that many people hated the ending (but more of that later).
Vaughan and Aniston clearly have some chemistry, the celebrity fuelled media had them meet and fall in love on the set of this film. Prior to this they were first obsessed by the Aniston/Pitt thing, then the Pitt/Jolie thing (again, meeting on a film set). I don`t know if they are an item or were an item, but you can see there is chemistry here, even looking at the picture slide show that opens the film. Yeah they`re actors, I just felt there was something between them and that helps this film in terms of believability. It also makes the increasingly bitter and cutting arguments more realistic, as both get extremely personal about each other and their respective families. Aniston has struggled to rid herself of the `Rachel` comparisons, but not once did I think of Friends here (not a big fan though, so hey…). Vaughan isn`t the laugh a minute guy that people might expect, here he plays a guy that is funny and that everyone wants to be friends with, but it`s on his terms. No compromises from this guy.
Jon Favreau is superb and a little under-used in my opinion as Gary`s best friend. Johnny is a true male friend but also has the bottle to tell him what everyone else is thinking except Gary, he`s a fun guy but he only ever does what he wants, he is unable to compromise and do something he doesn`t like just to be with his friends. The rapport between the two is great and there is a fantastic scene in the bar where Gary has misunderstood the appearance of a guy at the condo with Brooke. Johnny wants to have the guy beaten up, Gary is insisting he doesn`t with the former playing along that Gary really does but doesn`t want to know about it so he can deny any involvement. It`s quite a long scene for what it is and in lesser hands could just be wasted, but it flows beautifully.
Judy Davis plays the bitchy gallery owner to perfection, someone who acts as if she doesn`t want her icy world disturbed by real-life problems, but actually goes out of her way to help Brooke out. Vincent D`Onofrio superbly plays Gary`s brother who is vainly trying to build their company despite Vincent`s arrogance and refusal to play ball. Cole Hauser plays Gary`s other brother as the arrogant person who thinks he`s god`s gift to women with the worst banter ever. John Michael Higgins plays Brooke`s brother as a camp singer who isn`t fooling anyone, despite denials to Gary from Brooke. All these characters are well-rounded and well-utilised, adding light to the increasingly dark tone of the storyline. The most criminally underused is Justin Long as the receptionist in the Art Gallery, but he is served well in the deleted scenes and the alternative ending. They should have used it all, dammit.
This film was so realistic in the somewhat childish and ill-conceived behaviour of two people in the last throes of a relationship. Not the quick break-up which is somewhat easier to control, but the long protracted break-up where each party wants to get one over on the other, their behaviour getting more and more silly. This is bitterness with a twist as both parties still love each other, but both have their own agenda and continue with their completely pointless circle of ever increasing pushing and prodding until breaking point is reached. This is normally the point where changes in behaviour are recognised, both have a serious talk with some tears, a hug and we all live happily ever after. Not here. The ending is ambiguous and going into this with certain expectations, completely threw me and left me feeling a bit hollow. I can imagine a lot of people leaving the cinema disappointed, but after coming away and reflecting on the film, I think the ending is the right one (although I still prefer the alternative one…) as it hints at what could be but is not necessarily so. You as an audience see the growth that both characters have been through, you see their reaction and then decide for yourself. That clearly won`t please some people who expect the traditional wrapped up happy ending, but I think it really works. There is a message provided by tour guide Gary about Chicago that also hints at his deteriorating relationship and possible future; the city was destroyed by fire but was rebuilt on stronger foundations and flourished. Does this happen? That`s for you to decide.
So a painful watch with a lot of uncomfortable home truths, a film that makes you both scream at the characters for acting the way they do, but also empathise with them, understanding why they are taking their particular but flawed path. I suspect this is a better watch on DVD than on the big screen and not a film that will help anyone who has come out of the other side of a painful break-up or a couple on extremely rough ground. Or maybe it is. I think we all recognise the differences in behaviour between men and women and the struggle to make relationships work. Maybe this is a lesson on what not to do and recognises that your typical romantic comedy message of true love conquers all doesn`t always work out as smoothly as we`re led to believe.
You know, I look back on what I`ve written on this film and can`t quite believe how much I`ve written. Why is that? I suspect it`s because I recognise a lot of myself and other people in here and it has had a slightly profound effect on me. Can I/will I do anything about that? Time will tell, we are who we are…