Review of Catherine Tate Show, The: Series 2
Introduction
Catherine Tate, like many other very funny people, is at her funniest in small doses. Series 2, consumed all in one marathon gulp, is an experience of diminishing returns, where it becomes apparent that you`re really watching the same gags again and again. (I remember getting the same feeling watching `Little Britain` on DVD).
If you`re disciplined enough to ration these six episodes out, perhaps to one a week as originally intended, then there is much to enjoy. In fact, the familiarity of the material, and the repletion of the same gags over and over again, becomes very appealing.
It wasn`t so long ago that Catherine Tate was amongst the familiar bit part, supporting role fraternity on the TV comedy circuit. (Big Train, Barking, TvGoHome). She became a little bit better known in her own right with a role starring opposite Dawn French in the oblique comedy about the West Country ` Wild West`. I remember being surprised to hear that she was going to be starring in her own sketch show.
Inevitably judged alongside `Little Britain`. I felt that her show was a poor cousin, borrowing much from the format yet falling slightly short. But it grew on me. By Series 2 I had become an ardent fan.
Series 2 hit our screens in January this year though was shot in July the previous year. There has been another 6 episode series since. The second series seemed much more cogent than the first, with its array of leading characters better defined. It didn`t hurt that the series aired immediately after Gervais`s `Extras` which naturally pulled the right audience to the time slot. By the end of their dual run, Catherine Tate`s show was pulling in greater audience figures that `Extras` which is an indication of its growing popularity.
With more budget, traction and credibility the second series is chock-a-block with visiting talent. Peter Kay, Paul Whitehouse and Brian Murphy all make brief appearances.
Interestingly, there was also a brand new theme tune for Series 2 as well as a completely revamped title sequence, betraying the commissioner`s confidence in their investment.
The series features many of the same characters, though some are taken to new extremes. Perhaps most popular is Lauren (`Am I bothered?`) in some great moments including the hilarious `tattoo` sketch which I won`t spoil here.
We also see Nan Taylor going to new extremes (necessary when the comedy relies on shock) and in new situations like the doctors and the hospital.
There are also some great additions to the Paul and Sam repotoire (`What am I like!`) including the hilarious inclusion of parents and children, with Paul Whitehouse guesting as the Father, which I guess shows how much water has flowed under the bridge since `The Fast Show` which to some degree defined the format.
There are also a whole host of new characters including the hilarious Allie, the ultimate tactless host. Two of the most toe-curling moments include her pointing out a large birth-mark and imitating a speech impediment that she assumed was a `funny voice`.
Derek Faye is an odd concoction (`How very dare you`) as an overtly gay man who takes umbridge at any suggestion that he may be anything other than a ladies man. For me this is the least succesful of all Tate`s characters as, despite some serious make-up, this is clearly the voice of a woman. The catchphrase "Who, dear? Me, dear? Gay, dear? No, dear." Just seems too contrived to really make the grade.
Janice and Ray are two new characters who complain unremittingly about (foreign) food they have eaten in cafes and resteraunts ; The evil dirty robbing bastards!" - which works suprisingly well, despite the obvious repetition.
Amanda is another great invention as an over-zealous and extremely irritating waitress at BBJ`s restaurant: "I`m Amanda, but my friends call me Zebedee!"
Most surreal of the new faces are Irene and Vern, owners of a lay-by café, who try to convince a regular customer, played by Brian Murphy (George and Mildred) , that they have been visited by celebrities, including Madonna and former Russian President Gorbachev.
All very amusing!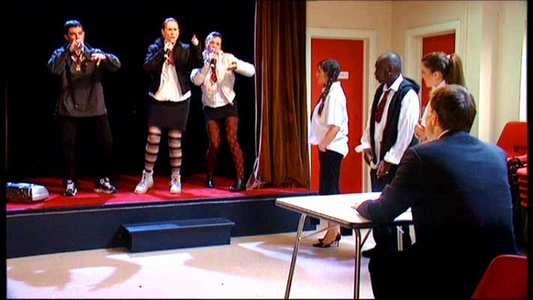 Video
A perfectly adequate copy of the BBC TV show with reasonable compression of the digital originals. Broadcast in 16:9, and presented in widescreen anamorphic here too.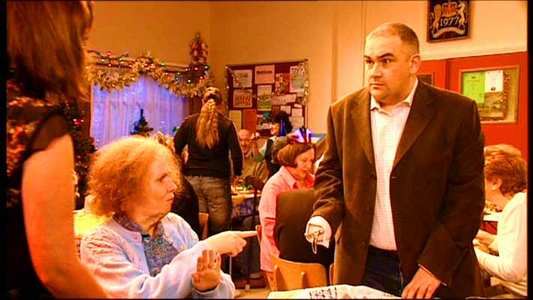 Audio
A perfectly adequate copy of the BBC TV show with reasonable compression of the digital originals. Broadcast in 16:9, and presented in widescreen anamorphic here too.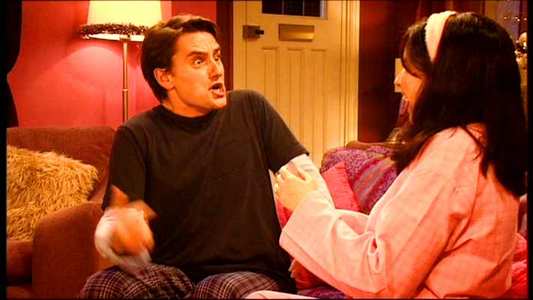 Features
The `Special Features` on the single review disc amounted to nothing more than some useful juke-box menu functions, allowing you to view the series by episode, by scene or by favourite character. A good idea for a sketch show though not quite the features one might expect. Perhaps the final release will contain something more.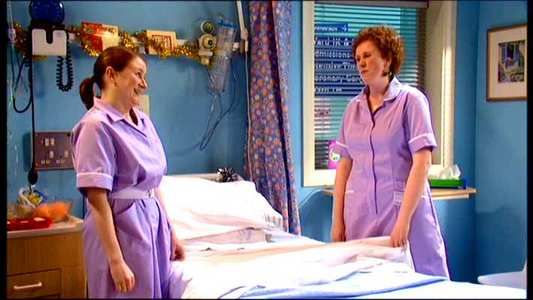 Conclusion
Catherine Tate`s sketch show really caught its stride for Series Two, somehow finding its own voice and moving beyond the cruel comparisons with `Little Britain`. All the best characters from Series One are to be found here alongside a healthy line up of new characters.
The show, in common with `Little Britain`, relies heavily on familiarity and repetition for its humour (you can hear the screening audience chuckling in anticipation on the sound-track) and this works just fine as long as you don`t view the episodes back-to-back.
Like many imaginative sketch shows it`s all a bit hit and miss, though when it hits it can be very funny indeed.
There`s no doubting Tate`s incredible comedic versatility and at times she`s barely recognisable from one sketch to the next with her masterful vocal and accent range, and some really innovative make-up.
This will, of course, make a perfect christmas gift, and its release date betrays that perfectly reasonable intent.