Old Dark House, The (US)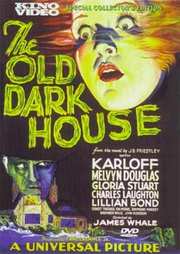 An American receives a mysterious invitation
Certificate: none
Running Time: 70 mins
Retail Price: $12.99
Release Date:
Content Type: Movie
Synopsis:
Weary travelers find shelter in a mysterious Welsh manor in this definitive "Old Dark House" thriller and cult movie favorite by horror pioneer James Whale (the director of `Frankenstein`, `The Invisible Man` and `The Bride of Frankenstein` and subject of the recent film `Gods and Monsters`).

Greeted with an animal-like grunt by the mansion`s hideously scarred butler (Boris Karloff), three disoriented voyagers (Melvyn Douglas, Raymond Massey and Lillian Bond) find themselves in the unwelcoming company of the psychotic Femm family, whose members include a religious fanatic obsessed with mortality and other matter of the sinful flesh (Eva Moore), her browbeaten brother (Ernest Thesiger), and a scripture-quoting homicidal pyromaniac (Brember Wills)... all watched over by their androgynous, 102-year-old father (Elspeth "John" Dudgeon). Relieving the story`s overwhelming weirdness are Charles Laughton and a young Gloria Stuart (`Titanic`) as two confused visitors to the strange estate.

As witty and surprising as it is darkly unsettling, `The Old Dark House` is a ghoulishly delightful treat, a one-of-a-kind macabre comedy blanketed with rain-soaked, gothic eeriness orchestrated by one of the foremost directors of the American horror film.
Special Features:
Audio Commentary by Gloria Stuart
Audio Commentary by James Curtis (author of James Whale Biography "A World Of Gods And Monsters"
Filmed Interview with Curtis Harrington
Gallery of production and publicity stills

Directed By:
James Whale

Written By:
J.B. Priestley

Starring:
Boris Karloff
Melvyn Douglas
Gloria Stuart
Ernest Thesiger
Raymond Massey
Charles Laughton