Review of Quantum Leap: Season 4
Introduction
When the regular Reviewer free-for-all began once again recently, with us lowly reviewers scrapping like wild dogs for the shiny circular scraps offered magnanimously from above (It`s not a pretty sight I assure you), I perked up at the sight of a Quantum Leap boxset available for review. Then I was almost overwhelmed with a sense of apathy. Nothing to do with the show of course, as I have always been a fan of Dr Sam Beckett and his prolonged jaunt through the eddies of time. Back in the late eighties and early nineties when the show aired, there was Quantum Leap, and there was Star Trek: The Next Generation, and that was it. It was lucky for this sci-fi fan that both series were so enjoyable, and I would tune in assiduously to both when broadcast. Of course now, there is no end to the choice of television sci-fi available to us, indeed that is what made me somewhat ambivalent about this boxset. Multi-channel TV is a boon for nostalgia freaks, and ITV3 has the complete Quantum Leap series showing twice a day on a loop. Guess what I have just been watching recently?
It`s when I looked closely at the episode list on this boxset that I realised that it still held some advantages over the television broadcasts, beyond those offered by portable optical storage media. It turns out that fifteen years on, certain episodes are still too controversial for daytime and early evening TV, and the likelihood of seeing Justice, Running For Honor, and Raped is remote. Add to that those episodes that are shown often have minor cuts for content. Indeed, this may be the first time I`ve seen these episodes in their entirety since first broadcast on late night BBC2.
Once upon a time, US TV shows used to have prologues that succinctly explained the shows` premises. Michael Knight was always the one man that could make a difference, the A-Team were always jailed for a crime they didn`t commit, Jessie Mach was always "Man. Machine. Streethawk!" Ok, that last one is a bit of a reach, but Quantum Leap`s prologue perfectly stated what the show was about at the beginning of each episode* thus…
"Theorizing that one could time travel within his own lifetime, Doctor Sam Beckett led an elite group of scientists into the desert to develop a top secret project, known as Quantum Leap. Pressured to prove his theories or lose funding, Doctor Beckett, prematurely stepped into the Project Accelerator and vanished. He awoke to find himself in the past, suffering from partial amnesia and facing a mirror image that was not his own. Fortunately, contact with his own time was made through brainwave transmissions, with Al, the Project Observer, who appeared in the form of a hologram that only Doctor Beckett could see and hear. Trapped in the past, Doctor Beckett finds himself leaping from life to life, putting things right, that once went wrong and hoping each time, that his next leap will be the leap home."
* Of course that is the extended prologue used only during Season 2.
At the end of Season 3, Sam found himself in the harrowing situation where he was a patient in a psychiatric hospital, undergoing electro-shock treatment. He was also losing himself, taking on the personalities and memories of people he had leaped into. Yet the only way to leap out was to get another shock treatment. It was only Al who could persuade Sam to accept another dose. Then at the fateful moment, as Sam began to leap, lightning struck and everything turned blue.
Season 4 had 22 episodes in its run, and they are presented here over six discs.
1. The Leap Back - June 15th 1945
Sam is finally home. The last leap swapped Al and Sam around, and Sam woke up in the Imaging Chamber back at the project. This time it`s Al who has to put right what once went wrong, as he must make sure that returning WWII veteran Tom Jarrett gets back together with his sweetheart Suzanne. It seems like an easy enough mission, but just when Sam is getting used to life back in the project, Al`s leap takes a turn for the worse.
2. Play Ball - August 6, 1961
It`s a hectic leap for Sam, who as baseball player `Doc` Lester Fuller has to deal with a hot-headed young player, reunite him with his father, win the play-offs, get Doc back to the big leagues, look after the team mascot, all the while avoiding the amorous attentions of the team boss and her daughter. If he can find the time, he has to learn how to pitch too.
3. Hurricane - August 17, 1969
When Hurricane Camille struck the US coast, it was the strongest storm ever measured, and one of its victims was nurse Cissy Davis. Now, as a Deputy Sheriff, Sam must make sure Cissy survives, while making sure the townsfolk in the path of the storm remain safe.
4. Justice - May 11, 1965
Sam leaps into a young lawyer just in time to be inducted into the Ku Klux Klan. Now, in a society of bigots and racists, he has to save the life of a black man destined to be lynched.
5. Permanent Wave - June 2, 1983
Sam leaps into Al`s dream job, a sought after hairdresser surrounded by countless beautiful women. But for Sam, Frank Bianca`s life turns into a nightmare when his girlfriend`s son Kyle witnesses a murder, and the assassin decides to eliminate the witnesses.
6. Raped - June 20, 1980
Katy McBain is a rape victim who originally remained silent after being attacked. When Sam leaps in, he must make sure the attacker faces justice. Unfortunately, the rapist comes from an influential family in the town, and getting support is difficult, even from Katy`s family. Even Al has a few doubts.
7. The Wrong Stuff - January 24, 1961
Sam leaps into a chimp-o-naut! Not only is Bobo in danger of being washed out of the space program, but also he is destined for some brutal animal testing. This is the least of Sam`s problems, as he has to find a way of communicating with the project scientist while wearing a nappy.
8. Dreams - February 28, 1979
Sam leaps into Detective Jack Stone`s life just as he enters the scene of a brutal murder, and the event has a strong effect on Sam. When he starts experiencing visions and dreams that belong to Stone, Sam decides to see a psychiatrist. But this psychiatrist gets too deep.
9. A Single Drop Of Rain - September 7, 1953
Sam becomes Billy Beaumont, rainmaker extraordinaire, just as he returns home during the harshest drought the region has ever seen. Now Sam must accomplish a miracle and make it rain, and while he`s at it, patch together Billy`s relationship with his brother.
10. Unchained - November 2, 1956
Sam leaps into Chance Cole, a prisoner chained to Jasper Boone, just in time for the two to attempt an escape from the chain gang. The unlikely pair have their work cut out just getting along, let alone escaping the guards and the dogs.
11. The Play`s The Thing - September 9, 1969
Sam wakes up as toyboy Joe Thurlow, young lover of Jane Lindhurst, a woman going through a midlife crisis. Sam must help her find a new lease of life through her talent for music, although her grown up son just wants her to stay home and be a nice, grey-haired grandmother.
12. Running for Honor - June 11, 1964
Leaping into Tommy York, Sam finds himself on the receiving end of prejudice at Prescott Naval College. There is an underground society in the navy called CHAIN, dedicated to keeping the service honourable, and that means keeping the navy free of homosexuals. In two days, Tommy`s ex-roommate Phillip will be murdered for his orientation, having already been thrown out of the navy. Meanwhile Al has to confront a prejudice of his own.
13. Temptation Eyes - February 1, 1985
As Dylan Powell, aging news reporter, Sam is on the trail of a serial killer who has established a rapport with him. There is a psychic working for the police on the case, and when Sam meets Tamlyn Matsuda, she sees the real Sam instead of Dylan. For once, Sam no longer has to pretend, but Tamlyn is going to be the seventh victim.
14. The Last Gunfighter - November 28, 1957
Sam leaps into Tyler Means, Wild West hero making a living by recreating his glory days for paying tourists. Only his former partner Pat Knight is aggrieved that Tyler has been taking liberties with the truth, and challenges him to a showdown.
15. A Song for the Soul - April 7, 1963
Sam becomes Sheree, backing singer to a girl group looking to hit the big time. But lead singer Lynell has problems convincing her conservative father to let her follow her dreams, and she is liable to fall under the sway of a slimy music promoter.
16. Ghost Ship - August 13, 1956
Sam leaps into Ed Brackett, co-pilot of a private plane taking a honeymooning couple to an island paradise. Sam has to save the bride from succumbing to appendicitis, not easy when the plane is heading into the Bermuda Triangle.
17. Roberto! - January 27, 1982
Sam leaps into Jerry Springer-a-like Roberto Guttierrez, host of a sordid talk show working his way up to the big time. But there is serious news out there, and when news reporter Jani Eisenberg sets him a challenge, the two wind up chasing an environmental story with lethal consequences.
18. It`s a Wonderful Leap - May 10, 1958
Cab driver Max Greenman only has to worry about earning enough to get a medallion of his own, essential if you want to run your own cab company in New York. But the future is much darker as Sam learns when he leaps in, and he will need the help of his guardian angel to succeed. Only this time, Al isn`t the guardian angel.
19. Moments to Live - May 4, 1985
Soap opera star Lyle Hart has a cushy life that is about to turn sour. Sam leaps in just in time to make competition winner Norma Jean Pilcher`s day by taking her out to dinner. But she`s one of those fans who can`t tell the difference between TV and real life, and she wants Lyle to be the father of her child. Soon Sam is a kidnap victim.
20. The Curse of Ptah-Hotep - March 2, 1957
As Egyptologist Dale Conway, Sam gets a chance to live out a dream and uncover the tomb of King Ptah-Hotep. Opening the seal has unleashed a horrible curse however, and unless Sam can change history, the expedition is doomed.
21. Stand Up - April 30, 1959
Sam leaps into Dave Parker, a comic trying to hit the big time. It isn`t easy when your partner has a short fuse, and a waitress has more talent than the two of you combined. But all three get a shot at stardom when a Vegas Casino owner offers them a gig. Now all Sam has to do is stop them from blowing it.
22. A Leap for Lisa - June 25, 1957
Sam leaps into young Al and inadvertently changes history for the worse. Al `Bingo` Calavicci was accused of murder, but Sam stopped nurse Lisa Sherman from providing Al`s alibi, leaving him with no defence. Soon Sam is on trial for his life, and his hologrammatic lifeline from the future vanishes as if he had never existed.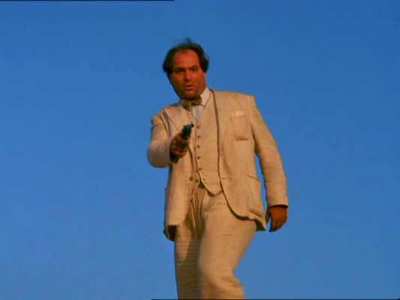 Video
Quantum Leap gets a 4:3 regular transfer that faithfully reproduces the original source material. It`s old US TV, but fortunately the show was shot on film, so despite the fact that there is no apparent restoration, the image looks clear, sharp and colourful for the most part. However darker scenes result in a loss of clarity and quite a bit of grain. FX shots also exhibit grain and greater print damage. There is also the prevalence of stock footage to evoke a period, especially in episodes like Hurricane and The Wrong Stuff. This footage will usually be of demonstrably inferior quality to the rest of the episode. I also noticed some pixellation on my test discs, specifically 2.31:22 and 2.43:27 on disc 3 during the episode Running For Honor.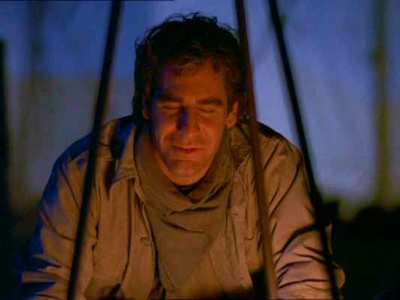 Audio
We have the bizarre reversal here, which sees hardcore Quantum Leap fans in the US importing their favourite show from UK region 2. The reason is that we in the UK get the original music and soundtracks to the show, while US media law means that studios that can`t afford to re-purchase the rights for tunes on a digital medium get bland muzak instead. That`s said, Season 4 doesn`t offer as many opportunities to hear the hits of yesteryear and in some episodes you would be hard pressed to notice the difference.
The sound on this set is a straightforward DD 2.0 English track, and the set is woefully lacking in subtitles. The sound is clear and dialogue audible throughout, although I did hear the volume levels waver in the episode Justice, and Temptation Eyes has a higher than normal level of hiss.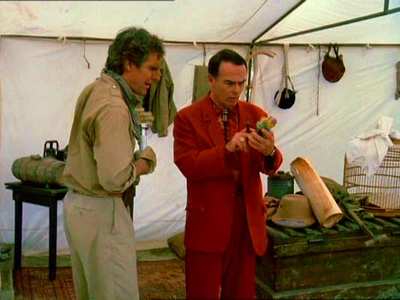 Features
Place a disc in your player, and it takes 50 seconds to get to the menu screen. It gives you an opportunity to flick through the channels and check if you aren`t missing anything more interesting I guess. The animated menus are pleasing, and transitions between pages are swift.
Each disc gets a minute long showreel for other series available on the Playback label. The link on screen is labelled UK Market Only, which leads me to think it is a placeholder until they come up with a better name.
The substantial extras are on disc six however.
Prominent is a preview of Season 5, in the shape of the complete 13th episode, Liberation - October 16, 1968.
In it, Sam leaps into Margaret Tanner, a mother and housewife whose exploration into women`s lib is threatening her family and causing her old-fashioned husband no end of grief. But daughter Suzie is flirting with the militant wing of the movement.
The cheesy retread of the theme music announces one of the lesser offerings from Season 5. The image quality is down compared to the rest of the episodes; it`s very much an NTSC source, soft and prone to ghosting. It`s also a curious extra feature, given that if you are a QL fan, you`ll pick up Season 5 anyway.
Finally there is The Great 80`s TV Flashback. This lasts 30 minutes and is a nostalgia filled documentary about 80`s US television. There are plenty of nondescript talking heads waxing lyrical about television shows that some clearly haven`t even seen. (Miss Quantum Leap fan, I`m talking about you). Then again, `The Hoff` does show up to say a couple of words about Knight Rider. There are plenty of clips of shows like Miami Vice, The A Team, Knight Rider, Magnum PI, Murder She Wrote, Quantum Leap and more. It`s just the wildest of coincidences that all of these shows are available on the Playback label.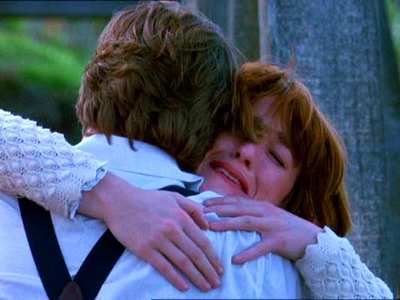 Conclusion
Oh Boy! I used to love Quantum Leap, and I watched it without fail when it was first broadcast. It`s not only for sci-fi fans like me, because if you look at it closely enough you realise that Quantum Leap really isn`t sci-fi, but more of an episodic drama serial akin to The Fugitive, or Highway To Heaven. Dr Richard Kimble was framed for murder and poor David Janssen spent countless years fleeing from justice. Every week he would wander into a new life where he would wind up making a difference, but he would never be able to put down any roots, and would have to move on for the next episode. In this format, there is always tension and drama from the over reaching story (it needn`t necessarily require a flight for justice, as long as there is a reason for the main characters to keep moving), the regular cast can be kept economically small, and the variety of stories can vary greatly from week to week. It`s a case of having your cake and eating it. Quantum Leap took this idea to its limit, with Dr Sam Beckett literally living a new life each week. The show`s premise was simple, and hopping from life to life and solving problems meant that you could play in any genre you wanted. Quantum Leap played in them all, comedy, drama, thriller, ghost stories, mysteries, cop shows, musicals, sports, westerns and any combination thereof. What made it so special was the golden pairing of Scott Bakula as Beckett and Dean Stockwell as Al Calavicci. The strait-laced scientist as Lone Ranger and his lecherous Tonto gave the show a strong core, and the show gave us enough of a back-story for the two to make their journey through time something to care about.
Unfortunately, like every television series Quantum Leap had a shelf life, and after five seasons it had faded to an ignominious end. The show`s premise was about Sam fixing the little things that had gone wrong in people`s lives, the sort of things that wouldn`t make headlines. Yet season 5 saw him receive a nemesis in the form of an evil leaper, as well as become several media personalities on his way through history, including Lee Harvey Oswald, Elvis Presley and Doctor Ruth. It all ended in one of the most contentious final episodes in TV history since the end of Blake`s Seven. I guess the writing was on the wall when the final series received a made-over theme tune, of the sort that has signalled the death knell of shows like The A-Team and Enterprise.
But that`s talk for another review. This is Season 4, and while it is a significant retreat from the heyday of Season 3, there are only a few signs of the rot setting in, and the majority of the episodes offer great entertainment value. My highlights include the season opening and closing episodes, both focusing on Al in different ways. The first is a more lighter look, with Al getting to experience the culture shock that is associated with time travel, while in the season finale, Al once again takes centre stage as Sam has to correct a glitch in history when he leaps into his best friend as a young man. I`m generally a fan of the lighter episodes, those which manage to mix drama and comedy deftly, and chief among those are Play Ball, Permanent Wave, A Single Drop Of Rain, The Last Gunfighter, Ghost Ship, It`s a Wonderful Leap and The Curse Of Ptah-Hotep. Ghost Ship also heavily uses stock footage from the earlier Donald P. Bellisario production, Tales Of The Gold Monkey, necessitating the character`s name being Grant Cutter to match the Cutter`s Goose decal on the side of the plane. It`s two doses of nostalgia for the price of one for this fan. In fact the majority of the episodes are eminently enjoyable in this season, but they lack the warmth and magic that accompanied the earlier seasons. Instead of feeling like Quantum Leap episodes, they often feel like scripts for other shows hastily getting a rewrite to work in Sam and Al`s world. Episodes like Dreams, Permanent Wave and Temptation Eyes could very much be Magnum PI episodes, Unchained is a little too reminiscent of The Defiant Ones, and the Season 5 descent into gimmickry is practically ordained by The Wrong Stuff, with Sam leaping into a chimp and spending the episode in a nappy.
I must admit, that I`m not a fan of those episodes where Sam leaps into a woman. The sight of a grown man in a dress, with a beehive, wearing jewellery and make-up is something that requires a degree of irony that really only the British are capable of, and I can`t make it through A Song For The Soul without seriously cringing. A far greater problem lies with the moral episodes. Quantum Leap was an ideal forum to comment on social issues, and early on it made great strides in making cutting edge drama. However, Season 4 only sees three such efforts, the same three that usually get missed out by daytime TV reruns, Justice, Raped and Running For Honor. All three episodes are misjudged affairs, clumsily making their points in a twee and unsophisticated manner. They seem unclear as to what message they are trying to put across, and the endings of the first two episodes do more harm than good.
But by and large, Season 4 of Quantum Leap is excellent entertainment value, even if doesn`t represent the best that the series has to offer. The majority of the episodes are thoroughly watchable, and even the less stellar efforts have a cheese value to them that isn`t devoid of merit. What makes Quantum Leap stand out in terms of eighties programming is that while its peers were happy churning out formulaic fodder that offered safe and predictable viewing, this show actually gave something different every week. That`s why this show really does have something for everyone. The boxset is put together to part fans from their money as efficiently as possible. There are no subtitles, no other language options, the image quality shows its age, and the extra features are pretty much worthless. But, all the episodes are there in their entirety, and that is the ultimate point of any season boxset. This boxset shows that even with a lacklustre season, Quantum Leap was a cut above the other television of the era. Well worth a trip down memory lane.