Wagner: Götterdämmerung (Haenchen) (UK)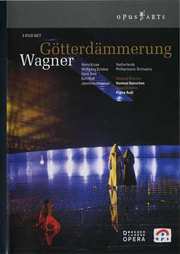 Based on the new Complete Edition of the works of Richard Wagner
Certificate: none
Running Time: 269 mins
Retail Price: £29.99
Release Date:
Content Type: Musical Recording
Synopsis:
Heinz Kruse, Wolfgang Schöne, Henk Smit, Kurt Rydl, Jeannine Altmeyer, Eva-Maria Bundschuh, Anne Gjevang, Hebe Dijkstra, Irmgard Vifsmaier, Kirsi Tiihonen, Gabriele Fontana, Hanna Schaer, Catherine Keen
Netherlands Philharmonic Orchestra / Hartmut Haenchen
Stage Director Pierre Audi

In the fourth and final part of the epic cycle, Der Ring des Nibelungen, the treachery and betrayal which leads to Siegfried`s death also heralds the downfall of the gods and the return of the gold to the Rhine. This stunning production of The Ring from Het Muziektheater Amsterdam blends the lyrical, mythical and philosophical qualities of Wagner`s work into a profound unity. Pierre Audi`s stage direction is inspired and amazing sets by George Tsypin and wonderful costumes by Oscar-winning Eiko Ishioka complement singing and playing of great intensity from the cast and the Netherlands Philharmonic Orchestra under Hartmut Haenchen`s visionary musical direction. This is a Ring to remember. This production of The Ring of the Nibelung is based on the new Complete Edition of the works of Richard Wagner.
Special Features:
Cast Gallery & Synopsis

Introduction to Götterdämmerung, produced by the Dutch broadcaster VPRO with presenter Michaël Zeeman, composer Peter-Jan Wagemans and Ronald de Leeuw