Review of Trigun: Vol. 1
Introduction
Futuristic Westerns set on distant worlds, with madcap characters and stories with wit and humour comprise a surprisingly small genre. You would think that there were more out there. Last year I got cast adrift in the middle of Trigun, an anime that slots perfectly into that genre, and found an enjoyable series that refused to take itself seriously. Now I have the chance to see how it all began, with Volume 1.
Vash the Stampede is perhaps the most infamous outlaw there is, with a $$60 billion bounty on his head. Deadly with a gun, he`s ruthless, fearless and the mere mention of his name can clear towns ahead of his arrival. He`s also a bit of a dork and a committed pacifist. Trigun is set on a distant future world that bakes under the glare of two suns. The human civilisation there has slipped back in technology, and society has taken on the aspect of the Wild West of old. Despite Vash`s reputation, there are plenty of bounty hunters willing to try for that reward. Two hard up insurance agents, Milly Thompson and Meryl Stryfe are assigned a mission to locate and identify Vash the Stampede, and try to limit the destruction that he leaves in his wake. This disc from MVM contains the first four episodes of Trigun.
1. $$60,000,000,000 Man
In a bar in the middle of nowhere, regulars are gossiping about Vash the Stampede and his latest depredations, when bandits come and demolish the building, razing it to the ground. Nothing is left standing, except a man in a red coat nursing his drink. The image fades out as he draws his one gun against the bandits` arsenal of automatic weapons. Meanwhile in the ruins of Dankin town, the Marshall points a bounty hunter in the direction of a short-legged giant in a red coat and with an earring. At the same time in Felnard, two wet behind the ears insurance agents wander into a bar looking for Vash the Stampede, a 12 ft tall man with a Mohawk and a large weapon. It`s going to be a messy showdown when the four parties cross paths.
Ep 2. Truth Of Mistake
Despite being rescued by the man in red, insurance agent Meryl Stryfe has a hard time believing that he really is Vash the Stampede. She and partner Milly Thompson visit a ghost town dying from lack of water. They learn that Vash is rumoured to be a bodyguard at the local mansion, working for the town`s water baron. But who should greet them at the door with ice water to quench their thirst, but the same clown who rescued them before. He`s been hired to `masquerade` as Vash to protect a female houseguest. But there is more to this set up than meets the eye.
Ep 3. Peacemaker
Meryl and Milly are still searching for Vash the Stampede, and they run into the man with the red coat in Warrens City. Milly is sure that he is the man they are looking for, he has the same name after all, but Meryl is unconvinced. While looking for a gunsmith named Frank Marlon, Vash meets an insistent drunk begging for alcohol. Marlon is a hero who saved the town from marauding bandits, by creating an arsenal for the townsfolk. As is usual in tales like this, the drunk and Frank Marlon turn out to be one and the same. Which is when the terrible `Vash the Stampede` and his gang of outlaws decide to rob the town`s payroll.
Ep 4. Love & Peace
Meryl may be sceptical about Vash`s identity, but she and Milly are following him nonetheless. This time they end up in the town of Orleans, and in the middle of a hostage situation. Tensions inside a saloon rise, as four bandits hold five hostages, our heroes as well as the daughter of the town`s leader. There is tension outside, as a power struggle plays out between the concerned father and the town`s sheriff. Ancient history will decide how the crisis plays out.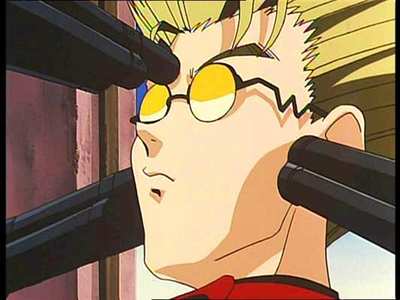 Video
The picture comes in a nice clear 4:3 regular transfer. The image is sharp and makes use of strong colours, although there is some rainbowing at times. This is an older anime, and the precision of CGI has yet to replace the freer feel of hand drawn animation. I love the design of the anime; the character design is awesome, although it does take some getting used to. Trigun takes place in a fallen civilisation, with vestiges of hi-tech still around, but mostly old and falling apart. There`s plenty of old fashioned technology, and the occasional synthesis of the two giving the story a nice steam punk feel. The animation is strong and fluid, and is generally of high quality. Watch out for the creator`s trademark, a black cat that manages to crop up in every episode.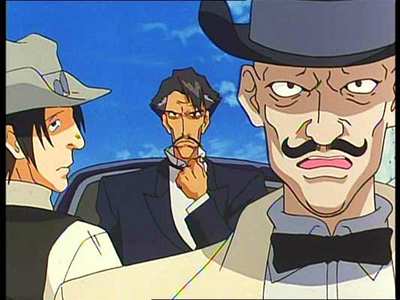 Audio
You get the basic selection of DD 2.0 Japanese and English, with translated English subtitles to accompany. The dialogue is clear throughout and the music suits the story well. As usual I chose to listen to the Japanese dub, preferring to hear the characters as they were originally voiced. I did spot-check the English track, and while the main character voices were strong and distinctive, the same can`t be said of the guest characters. There were no technical problems in what I heard though. Trigun is a witty show, with smart dialogue and characters that aren`t afraid to use a quip as readily as a gun. With lines like "It`s best not to burst the bubble of an airhead", there is always added entertainment value in any episode.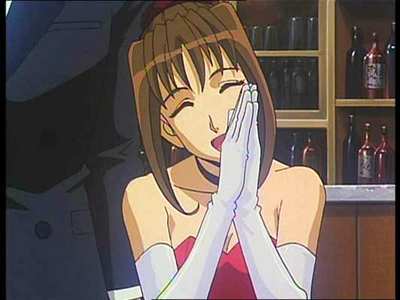 Features
A few extras complement the Trigun disc, but not enough to really get excited about. Animated menus are accompanied by gunshot transitions. You get the Trigun trailer as well as trailers for Chobits and Kiddy Grade. Finally there are 26 line images in a Character Design gallery as well as 20 stills in an Image Gallery.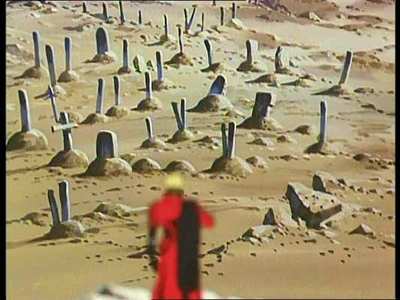 Conclusion
Watching Trigun from the middle hasn`t been an unmitigated joy. The series takes something of a dip into formulaic territory around about volume 5, although I have yet to see if it will pick up again. It also doesn`t help that the discs following this first one all have just three episodes apiece, never my favourite way to watch anime. It`s only now that I have seen the first volume do I realise how strongly this series started, full of energy, wit and plenty of promise. These first four episodes of Trigun are all keepers, tremendously entertaining and well written. From the first moment, the wit of the idiosyncratic characters is clear, and the deft blending of comedy and action works a treat.
These characters are introduced in a series of stand-alone stories, and that contrasts strongly with the overarching storyline that comes to the fore in later volumes. The theme here is one of reputation, everyone is searching for Vash, the idea of him strikes fear into most people, and naturally their expectations of him are exaggerated too. Meryl is one who is most influenced by this, and finds it hard to accept that the red-coated clown they meet is the legendary gunman. Vash is quite the buffoon, and it`s apparent that by playing against type he tries to avoid attention. It`s also notable that in a Western anime with plenty of gunplay, he never once fires his weapon in these four episodes. The reasons why are revealed in subsequent volumes.
What elevates this opening volume over the others that I have seen is that the Western approach is strongest here. These stories are classic Western archetypes transplanted to a future vernacular. The first episode is the bounty hunter episode combined with plenty of mistaken identity farce. It is a brilliant introduction to the characters in perhaps the strongest written of the stories here. Truth Of Mistake is the greedy cattle baron warring over water rights tale, only this one conveniently dispenses with the cattle. Again mistaken identity rears its head as Vash is hired to masquerade as himself to protect a damsel who is far from in distress. Another staple of the Western genre is the hero fallen on hard times drinking his life away. When he is faced with another crisis, he has to dry up or die, to regain the respect he had lost. This is re-enacted in The Peacemaker. Finally Love & Peace revisits the staple of the bandits who became respectable in the town that they stole, by becoming town leaders. Yet there are still people who resent them for what they did, and their own past eventually catches up to them. It is also a rule that there has to be a son or daughter who idolises their father and can`t accept that he used to be a villain. These tales are deftly retold, with oodles of intelligence, humour and action.
This opening volume is the best that I have seen of Trigun so far, and because these are stand-alone episodes, there is little risk in just buying just this one volume. It certainly is a point to bear if you don`t want to invest in a long-term collection. Great fun.