Wallace & Gromit: The Curse Of The Were Rabbit (UK)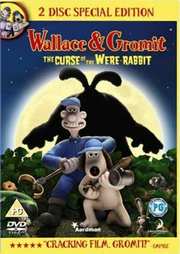 Something bunny is going on...
Certificate: PG
Running Time: 81 mins
Retail Price: £22.99
Release Date:
Content Type: Movie
Synopsis:
Eccentric, cheese-loving English inventor Wallace (voiced by Peter Sallis) and his trusted silent canine companion Gromit, have a thriving business in their garden-destroying varmint-elimination service, named Anti-Pesto. Together they prepare for the upcoming Giant Vegetable Growing contest. Wallace even has a potential paramour in wealthy client Lady Tottington (Helena Bonham Carter), a vegetable enthusiast with a severe rabbit problem.

Unfortunately, the tight-coiffed, slick-talking hunter Victor Quartermaine (Ralph Fiennes) also has designs on the lady, and he`s not giving up easily. When a giant rabbit terrorises the townsfolk and begins devouring some prizewinning veggies, another dimension is added to the existing competition between Wallace and Victor, and the outcome will be the talk of the town!

Following up the success of 2000`s `CHICKEN RUN`, master of claymation Nick Park has given Wallace and Gromit - the stars of three celebrated short films - their own feature... and with thrilling results!

The eye-popping animation comes along with appealing character design and beautifully detailed environments, and we are also given an engaging, multi-layered story populated with characters to care about. As with Park`s previous successes, the result has a cross-generational appeal that will undoubtedly age in the timeless manner of all great entertainment.

You can go the official site <a target="_blank" href="http://upivideo.universalpictures.com/wallacegromit/">here</a>.
Special Features:
Disc One: Commentary with Nick Park and Steve Box. Deleted Scenes (13:13mins). The History of Wallace & Gromit (20:23mins). Behind The Scenes Of The Curse Of The Were-Rabbit (13:03mins). A Day In The Life At Aardman (8:25mins). How To Build A Bunny (3:31mins). The Family Album. Interactive games and creative activities.
Disc Two: Making of the Were-Rabbit (9:45mins). Cracking Contraptions (23:49mins). The Amazing World of Wallace & Gromit (15:06mins). Stage Fright (11:07mins) with commentary by Steve Box.

Directed By:
Nick Park
Steve Box

Written By:
Mark Burton
Steve Box
Bob Baker
Nick Park

Starring:
Mark Gatiss
John Thomson
Liz Smith
Nicholas Smith
Peter Kay
Helena Bonham Carter
Ralph Fiennes
Peter Sallis