Erik The Viking (UK)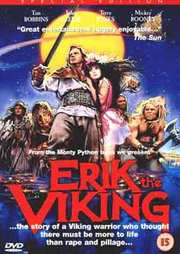 The story of a Viking warrior who thought there must be more to life
Certificate: 15
Running Time: 106 mins
Retail Price: £15.99
Release Date:
Content Type: Movie
Synopsis:
Erik`s doubts about his own lifestyle begin when he inadvertently falls in love with a rather pretty girl he has just killed. Not that he meant to kill her you understand but this being the legendary Age of Ragnarok killing people is rather in fashion, and mishaps are bound to occur.

In fact, any Viking warrior who hasn`t killed at least one innocent person by the lunch break is generally reckoned to be a bit of a bad apple.

So Erik sets off for Asgaard - the fabled City of the Gods - along with his rather unruly band of followers: Thorfinn the Skull, Sven the Berserk, Ulf the Maddeningly Calm (Sven the Berserk`s father), Harald the Missionary (17 years without a single convert), Lief the Lucky (who is unfortunately drowned on his first day at sea), Ivar the Boneless, Odd the Coal-Biter (there really was a Viking named that) and the rest of the team.
Special Features:
Interactive Menus
Scene Access
The making of `Erik The Viking`
Extensive Programme notes

Video Tracks:
Pan & Scan 1.33:1

Audio Tracks:
Dolby Digital Stereo 2.0 English

Directed By:
Terry Jones

Written By:
Terry Jones

Starring:
John Cleese
Imogen Stubbs
Terry Jones
Eartha Kitt
Mickey Rooney
Tim Robbins

Casting By:
Irene Lamb

Soundtrack By:
Neil Innes

Director of Photography:
Ian Wilson

Editor:
George Akers

Costume Designer:
Pam Tait

Production Designer:
John Beard

Producer:
Neville C. Thompson
John Goldstone

Executive Producer:
Terry Glinwood

Distributor:
Arrow Films