Mighty Celt, The (UK)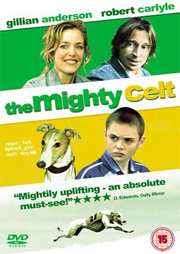 Life begins out of the traps
Certificate: 15
Running Time: 78 mins
Retail Price: £15.99
Release Date:
Content Type: Movie
Synopsis:
Young Donal (Tyrone McKenna), growing up alone with his mother Kate (Gillian Anderson) in Belfast, works after school for Good Joe (Ken Stott), a local greyhound trainer. As Donal`s talent with dogs becomes apparent he strikes a deal with his boss to own a promising greyhound, The Mighty Celt, if he can train it to win three successive races.
Meanwhile each of their lives is profoundly affected by the reappearance of O (Robert Carlyle), an enigmatic figure from the past. As Donal becomes friendly with O, Kate warily lets him re-establish contact with her, despite the growing tension between him and Good Joe. But when Good Joe goes back on his deal, Donal is forced to learn some harsh lessons about life and risks losing The Mighty Celt.
Special Features:
Making of. Theatrical trailer.

Directed By:
Pearse Elliott

Written By:
Pearse Elliott

Starring:
Mark McCavanagh
Bernard Manning
Alison Finnegan
Robert Carlyle
Gillian Anderson