Land Of The Dead (Director`s Cut) (UK)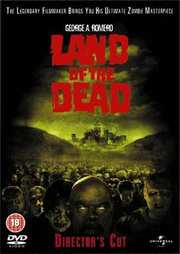 The dead shall inherit the Earth
Certificate: 18
Running Time: 99 mins
Retail Price: £19.99
Release Date:
Content Type: Movie
Synopsis:
It has been two decades since master filmmaker George A. Romero`s zombies have scared the audiences around the globe. For years, fans have been eagerly awaiting his return. And now the day is here. A new chapter of horror has arrived. Now that zombies have taken over the world, the living have built a walled-in city to keep the dead out. But all`s not well where it`s most safe, as a revolution plans to overthrow the city leadership, and the zombies are turning into more advanced creatures. George A. Romero`s Land of the Dead is the acclaimed director`s long awaited return to the genre he invented with Night of the Living Dead in 1968.

You can view the trailer <a target="_blank" href="http://www.nmm-trailerpark-hst.com/Land_of_the_dead_snif.html">here</a>.
Special Features:
Undead Again: The Making of `Land of the Dead`. A Day With The Living Dead. Bringing The Dead To Life. When Shaun Met George. The Remaining Bits. Bringing The Storyboards To Life. Scream Tests: Zombie Casting Call. Scenes of Carnage. Zombie Effects: From Green Screen To Finished Scene. Feature audio commentary with director George Romero, producer Peter Grunwald and editor Michael Doherty.

Video Tracks:
Widescreen Anamorphic 2.35:1

Audio Tracks:
Dolby Digital 5.1 English

Subtitle Tracks:
CC: English

Directed By:
George A. Romero

Written By:
George A. Romero

Starring:
Robert Joy
Asia Argento
Dennis Hopper
John Leguizamo
Simon Baker