Review of Mr. & Mrs. Smith (Special Edition)
Introduction
DISCLAIMER: There may be spoilers ahead. But while there`s moonlight and music and love and romance - let`s face the music and dance.
Sorry. But spoilerphobes be warned. You might want to skip this first section.
This is a movie of two halves, and unfortunately somebody left off the second half. At approximately 120 minutes, the movie would have made a tedious three-hours, but with a satisfactory conclusion that tied up the ends left flapping loose at the end of the movie as it stands, I`m sure viewers would cut it some slack.
Mr and Mrs Smith is a fun, bubblegum-for-the-eyes movie with fetching stars and fun and games blowing shtuff up, but it is a disappointment having no satisfactory denouement. It is primarily a romantic comedy, and while it falls flat on its face at that function, that it doesn`t have a tragic ending is a given.
The first section of the movie deals with them coming together, and admittedly that does work. There`s a nice bit of heat between the stars, but nothing that would be out of place in a US PG-13 release. The UK rating was a 15, and a mild 15 at that. The second section of the movie establishes them both as assassins. Throughout the movie, Angelina completely outclasses Brad, not only having more kills under her belt, but she is better equipped, better backed-up and altogether better trained. The first kills we see in the movie set this up - Brad gets into a poker game in the back of a club and shoots up his fellow players when the target comes in. He`s slick, but it`s a straight phut-phut** you`re dead (**silencer). Angelina turns up at her target`s penthouse dressed in whip-me-quick PVC and fishnet and snaps his neck in the middle of foreplay. She then bails out over the edge of the balcony 007 style with 300ft of steel cable hidden in her handbag. It deposits her neatly on the pavement seconds later and she steps straight into a taxi. Now that`s style but then she`s Lara Croft and he obviously took one punch to the head too many in Fight Club.
The third section of the movie is where they cross paths "on the job". This is where the writer`s ingenuity starts to fall down. They are both sent to the desert to eliminate a target being moved by the FBI. Neither is able to complete the mission, and with covert service etiquette requiring that they both terminate the other agent with extreme prejudice, they quickly identify each other as their target. This leads to the domestic disturbance from Hell which sorts out their marriage issues, but sets their competing (?!?) agencies on a course to eliminate both of them.
There are some very nice action sequences, choreographed by Bond stunt coordinator and regular Simon Crane. Least satisfying is a less-than-inspired "dance of death" set-piece in an IKEA-type store with the Smiths fighting a task-force of ninja-clad FBI commandoes. Brad, according to the yak track, had the hots for the "dance of death" sequence and wanted to end the movie with it. Had it terminated with the dance incomplete in a kind of "Butch Cassidy" pastiche, that would have been a valid if romantically unsatisfactory ending. As it stands, the movie continues on to a conclusion that leaves absolutely nothing except their marital problems resolved.
Mr and Mrs Smith was overshadowed throughout its production by the Brangelina affair - the tabloids were full of stories of Brad leaving wife Jennifer in favour of Ms Jolie. The surprising thing about this movie is in spite of the reported attraction between the stars, they have little genuine rapport. Setting up the romance is a perfunctory first section of the movie. Then they get bored with each other. Then they get interested again. Unfortunately it is this third getting interested again act that falls down on the passion and intensity.
The movie is a case-in-point of the old "too many cooks" adage, and when you listen to the two yak-tracks included you realise that everybody including the producer`s mother`s cat had some input on the final cut.
There were not one but two endings - not alternative endings, but endings full stop - shot for the picture and in the event, neither was used. Irritatingly neither is included in the deleted scenes of the extras.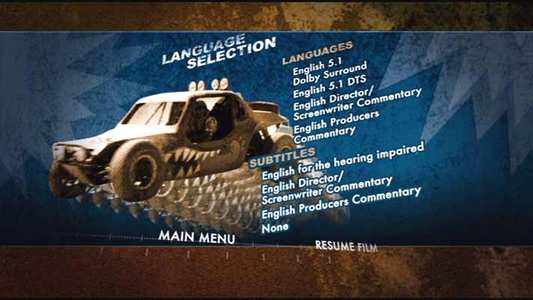 Video
Presented in the original theatrical 2.35:1 as anamorphic widescreen, the movie looks great. The image is rock steady, with excellent colour and contrast, and no digital artefacts. The special effects and stunts are frequently eye-popping and obviously every penny spent on the movie is up there on the screen.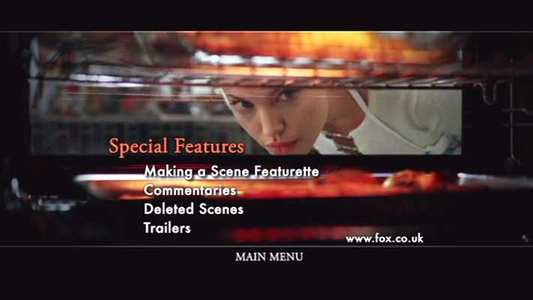 Audio
The movie comes with ground-shaking sound in both Dolby Digital 5.1 and DTS.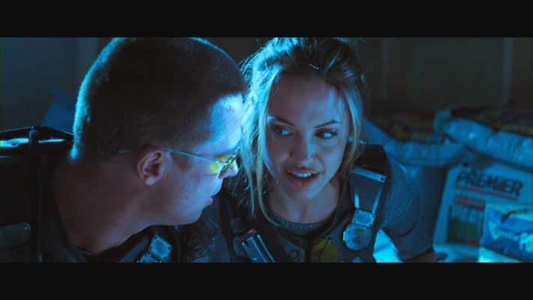 Features
Quite a poor showing for a blockbuster picture. There are two production team yak-tracks, one by director Doug Liman and screenwriter Simon Kinberg., and a second by producers Lucas Foster and Akiva Goldsman. There are three deleted scenes, which would have added little to the picture, although Vince Vaughan`s extended scene is fun. Making a scene is an eight minute breakdown of one pivotal sequence in the picture. There`s a very nice teaser trailer and theatrical trailer. The movie is fully subtitled. The Inside Look: The Transporter 2 sneak preview listed as an extra is not actually included, although a www link to fox.co.uk is.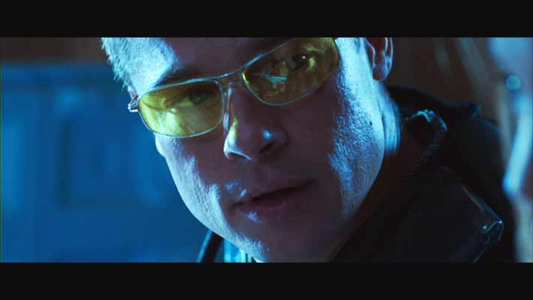 Conclusion
True Lies this isn`t, and I`d be lying if I said I really enjoyed this movie. It is fun. Angelina Jolie does a spruced-up Lara Croft routine and steals the picture from outgunned and outclassed assassin Brad Pitt. Brad`s control, played by Vince Vaughn as a guy still living at his Mom`s, steals the rest of the picture when Angelina`s not around. What loses brownie points from me is the lack of vital plot points and characters to make the story survivable. No identifiable bad guy and no satisfactory resolution to the tale really stops the movie being the romp it could have been.