Unleashed (UK)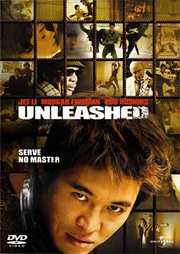 Serve no master
Certificate: 18
Running Time: 103 mins
Retail Price: £19.99
Release Date:
Content Type: Movie
Synopsis:
Written and produced by Luc Besson, and directed by Louis Leterrier, Unleashed features a fantastic performance from martial arts superstar, Jet Li.


On and beneath the mean streets of Glasgow, fiery gangster Bart (Hoskins) is merciless with debtors, would-be rivals and anyone else he takes a passing dislike to. Bart maintains his stranglehold through his unwitting enforcer, Danny (Jet Li), who he has `raised` since boyhood. Danny has been kept as a near-prisoner: trained to attack and if necessary, kill. Danny knows little of life, except the brutal existence that Bart has so cruelly fashioned for him. However, when Danny has a chance encounter with the sightless piano tuner, Sam (Morgan Freeman), he senses true kindness and compassion for the first time and experiences the transforming power of music.


When a sudden gangland coup separates Danny from Bart and the gang, Danny escapes the underworld. Taking refuge with Sam and his stepdaughter, Victoria (Kerry Condon), Danny finds a family of sorts and a future... However, the mob will not give up their prize asset so easily, and Danny must soon call upon his skills once more to protect his family and bury his past.
Special Features:
Deleted scenes
Complete scenes (10 mins)
Outtakes
The making of Unleashed (36 mins)
The making of the special effects (2 mins)
RZA `Baby Boy` music video

Video Tracks:
Widescreen Anamorphic 2.35:1

Audio Tracks:
Dolby Digital 5.1 English
Dolby Digital Stereo 2.0 English

Subtitle Tracks:
CC: English

Directed By:
Louis Leterrier

Written By:
Luc Besson

Starring:
Vincent Regan
Kerry Condon
Bob Hoskins
Morgan Freeman
Jet Li