Day Of The Dead 2 Contagium (UK)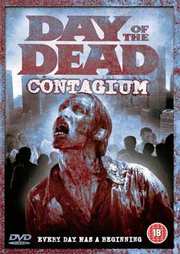 Once again the dead have their day
Certificate: 18
Running Time: 99 mins
Retail Price: £12.99
Release Date:
Content Type: Movie
Synopsis:
Inspired by the classic zombie films of George A. Romero, Day Of The Dead - Contagium pays reverent and gory homage to the master with a horrific and ingenious plotline that manages to works as both a prequel and a sequel to Romero`s original Trilogy of the Dead. Pennsylvania, 1968 and a crashed Russian spy plane is the source of a mysterious viral outbreak at a secret US military hospital. Before the effects of the virus have time to spread beyond the hospital walls, a crack Special Forces unit is called in to eliminate all those infected, destroy the installation and to cover up the incident. The present day, and the former military site is now the location of a civilian mental institution, where one of the inmates has unearthed a vacuum flask containing a vial of the deadly virus.
When the virus is accidentally released in the presence of a handful of patients, those exposed to it begin to suffer from peeling skin, random instances of collective telepathy and a ravenous craving for flesh. Unable to resist their hunger, they are forced to feed on their fellow inmates and the medical staff. But a bite from one these slowly evolving and mutating beings proves to be not only fatal but also something much worse, as the victims are transformed into mindless and equally bloodthirsty zombies whose only instinct is to feed on other humans. They have become the living dead!
Special Features:
Behind the scenes featurette.

Directed By:
George A. Romero

Written By:
George A. Romero

Starring:
Richard Liberty
Antone DiLeo
Jarlath Conroy
Joseph Pilato
Terry Alexander
Lori Cardille

Casting By:
Christine Forrest

Soundtrack By:
John Harrison

Director of Photography:
Michael Gornick

Editor:
Pasquale Buba

Costume Designer:
Barbara Anderson

Production Designer:
Cletus Anderson

Producer:
Richard P. Rubinstein
Ed Lammi
David Ball

Executive Producer:
Salah M. Hassanein