Nathan Barley (UK)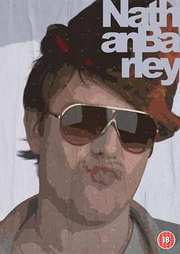 6 episodes
Certificate: 18
Running Time: 144 mins
Retail Price: £19.99
Release Date:
Content Type: Movie
Synopsis:
The latest, and possibly most controversial, offering from the undisputed high priest of British humour - Chris Morris (`The Day Today`/ `Brass Eye`/ `Blue Jam`), co-written with ultracool TV columnist for `The Guardian`, Charlie Brooker.
Nathan Barley (Nicholas Burns), is 26. He`s a webmaster, guerrilla filmmaker, screenwriter, DJ and in his own words, a "self-facilitating media node". He is convinced he is the epitome of urban cool and therefore secretly terrified he might not be, which is why he reads Sugar Ape Magazine - his bible of cool...

This DVD features the complete six part series shown on Channel 4 in early 2005.

Episode 1: Baffled human wreck Dan Ashcroft (Julian Barratt), - columnist on Sugar Ape, watches in horror as his world is over-run with 24 carat berks, led by a strutting, brainless c***-of-the-walk called Nathan Barley, who, distressingly, has designs on Dan`s sister Claire (Claire Keelan).

Episode 2: Dan is canonised against his will, while Nathan throws a party for his God-defeatingly rubbish website and oozes closer to Claire.

Episode 3: While Dan is plagued by a shrieking twit of a photographer called Peter, Nathan grooms Claire with alcohol and unsolicited breast massage.

Episode 4: Dan accidentally creates a new hairstyle by sleeping in paint. Nathan needs a new look to impress glamourous TV chick Dave `dave` Bikinus. Something is killed.

Episode 5: Editor Jonatton Yeah? (Charlie Condou), wants Dan to take part in some straight-on-straight gay action. A coke-blasted model proves an irresistible lure for Nathan.

Episode 6: Nathan piggybacks his way into Claire`s meeting with a TV commissioner, Pingu (Ben Whishaw), is broken like a rag doll and Dan finally discovers a way to destroy Nathan.
Special Features:
A host of bizarre extras in true Chris Morris style. Non-transmittable pilot (45 minutes). Outtakes. Photo gallery. DVD games.

Directed By:
Christopher Morris

Written By:
Charlie Brooker
Christopher Morris

Starring:
Richard Ayoade
Ben Whishaw
Claire Keelan
Julian Barratt
Nicholas Burns