When The Wind Blows (UK)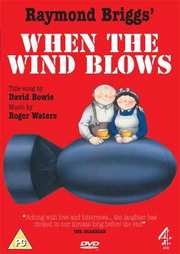 ...It`s No Fairy Tale
Certificate: PG
Running Time: 80 mins
Retail Price: £19.99
Release Date:
Content Type: Movie
Synopsis:
"Rock-a-bye baby on the treetop,when the wind blows the cradle will rock, when the bough breaks the cradle will fall and down will come baby, cradle and all..."
`When The Wind Blows` received outstanding attention from the press as a bestselling book. Now, it`s an unforgettable film.

`When The Wind Blows` tells how Jim and Hilda Bloggs, a typical English retired couple, deal with the approach of the nuclear bomb.

Hilda, who thinks fall-out is what you do in the army, is determined to get the washing in despite the 3 minute warning.

Jim, having lived through the World War II blitz, has the Dunkirk spirit and starts collecting essential supplies, which includes 2 packets of ginger nut biscuits, a tin of pineapple chunks and endless cups of tea....
Special Features:
In-depth interview with Raymond Briggs. Making of documentary.

Audio Tracks:
Dolby Digital Stereo 2.0 English

Starring:
David Dundas
James Russell
Robin Houston
John Mills
Peggy Ashcroft