Interpreter, The (UK)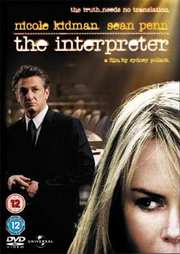 The truth needs no translation
Certificate: 12
Running Time: 124 mins
Retail Price: £19.99
Release Date:
Content Type: Movie
Synopsis:
Director Sidney Pollack`s diverse career sees him returning to familiar ground with `The Interpreter`, Nicole Kidman and Sean Penn starring in a film riddled with subterfuge, recriminations, and deadly secrets.

Kidman plays Silvia Broome, an interpreter who works at the UN in New York City. One night, while collecting a bag she has left behind in the building, Silvia overhears a whispered conversation in which an assassination attempt on redoubtable African leader Zuwanie (Earl Cameron), is planned during his future visit to the UN. Secret service agent Tobin Keller (Penn) is assigned to provide security for Zuwanie on the forthcoming trip, and conducts an investigation when Silvia explains what she has heard. He quickly discovers that Silvia has a lengthy, troubled past as a citizen from the same country as Zuwanie, and immediately begins to doubt her story...

This is the first film to be shot inside the United Nations Headquarters. Locations include the General Assembly and the Security Council, as well as corridors and hallways of the complex. The cast and crew filmed on weekends in order not to disrupt the working week of the Organization.
Special Features:
Audio commentary from director Sydney Pollack
Deleted scenes
Alternative ending
`The Ultimate Movie Set - The United Nations`: a look inside the prestigious United Nations building in New York Features interviews and walking tours conducted by official U.N. personnel
`A Day In The Life Of Real Interpreters` featurette: the unique career of an interpreter!
`Sydney Pollack At Work - From Concept To Cutting Room`: director Sydney Pollack explains the challenges of filming `The Interpreter`
`Interpreting Pan & Scan vs Widescreen`: using the interpreter as an example, director Sydney Pollack explains the difference between pan & scan and widescreen formats

Video Tracks:
Widescreen Anamorphic 2.35:1

Audio Tracks:
Dolby Digital 5.1 English
Dolby Digital 5.1 Spanish
Dolby Digital 5.1 Russian

Subtitle Tracks:
Hebrew
Icelandic
Swedish
Finnish
English
Greek
Croatian
Arabic
Danish
Norwegian
Bulgarian
Slovenian

Directed By:
Sydney Pollack

Starring:
Yvan Attal
Jesper Christensen
Catherine Keener
Sean Penn
Nicole Kidman