This Is Not a Love Song (UK)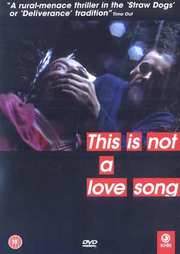 A life taken, now Spike and Heaton are running for their own...
Certificate: 18
Running Time: 88 mins
Retail Price: £15.99
Release Date:
Content Type: Movie
Synopsis:
Spike (Michael Colgan) and Heaton (Kenny Glenaan) are the unlikeliest pair: two loners who have found each other. Taciturn, competent, unreadable, Heaton is someone we are instinctively afraid of. In contrast, his side-kick Spike is manic, child-like, unstoppable, someone we are instinctively afraid for. When Spike commits a terrible crime, Heaton decides to stand by him - an act of astonishing, almost foolhardy loyalty.
There begins a chase across a vast Northern landscape of moors, rivers and dark woods, the increasingly exhausted fugitives being hunted not by the police but by a posse of farmers intent on revenge. As exhaustion and hunger take hold,Heaton injures his leg and the roles are reversed. Suddenly Heaton needs Spike`s loyalty. As the farmers close in, Spike is forced to decide whether to stand by his wounded friend or run for the safety of the city. No ordinary chase film, This is Not a Love Song is a love story trapped inside the body of a thriller.
Special Features:
Making of. Theatrical trailer.

Video Tracks:
Widescreen Anamorphic 1.85:1

Audio Tracks:
Dolby Digital Stereo 2.0 English

Directed By:
Bille Eltringham

Written By:
Simon Beaufoy

Starring:
John Henshaw
David Bradley
Kenneth Glenaan
Michael Colgan

Distributor:
Soda Pictures