InHumanoids (UK)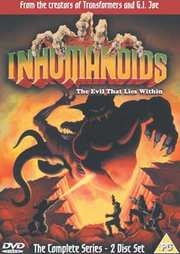 The 5 part movie The Evil That Lies Within, plus 8 episodes
Certificate: PG
Running Time: 290 mins
Retail Price: £12.99
Release Date:
Content Type: Movie
Synopsis:
Long ago, the Inhumanoids (Metlar, Tendril and D`Compose) were defeated by the Mutores (Granites, Redwoods and Magnator), who imprisoned the Inhumanoids deep within the Earth`s crust. After centuries of confinement the Inhumanoids are unwittingly set free by unsuspecting human excavators, unleashing their evil havoc. Now, an elite team of scientists known as Earth Corps, headed by noted geologist Herc Armstrong, must team up with the Mutores to confront the Inhumanoids and prevent their plan to destroy the planet.
This release features this 5 part movie The Evil That Lies Within, plus the episodes: Cypheroid, The Surma Plan, Cult Of Darkness, Negative Polarity, The Eye, Primal Passions, The Masterson Team, Auger For... President?
Special Features:
Complete series scripts. US Hasbro toy packaging gallery. US Hasbro TV spot.

Directed By:
Flint Dille

Starring:
Richard Gautier
Brad Crandel
Fred Collins
William Callaway
Michael Bell