Hole In My Heart, A (UK)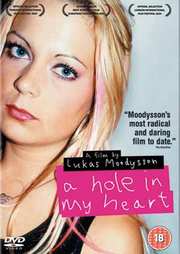 Lukas Moodysson`s most shocking and controversial film to date
Certificate: 18
Running Time: 93 mins
Retail Price: £19.99
Release Date:
Content Type: Movie
Synopsis:
Lukas Moodysson, the critically acclaimed, award winning director of Show Me Love, Together and Lilya 4-Ever returns with his most shocking and controversial film to date. In a squalid, suburban flat, Rickard (Thorsten Flinck) and his friend Geko (Goran Marjanovic) set about making an amateur hardcore porn movie with the help of would-be starlet, Tess (Sanna Bråding).
Having had her application to the reality TV show Big Brother rejected, and harbouring dreams of spending a year on a desert island with David Beckham, Tess hopes that appearing in Rickard`s film will be her passport to the lucrative LA porn scene and, ultimately, to stardom. Fuelling the shoot with drugs and alcohol, these three participants film a series of progressively shocking acts of physical degradation, sexual perversity, emotional torment and violence. A reluctant witness to events is Rickard`s son, Eric (Björn Almroth), a reclusive Goth teenager who spends his time alone in his room listening to music and thinking about his late mother.
Special Features:
Making of featurette. Lukas Moodysson Masterclass. Director`s statement. Trailer.

Subtitle Tracks:
English

Directed By:
Lukas Moodysson

Written By:
Lukas Moodysson

Starring:
Goran Marjanovic
Sanna Bråding
Björn Almroth
Thorsten Flinck