Tree Grows In Brooklyn, A (UK)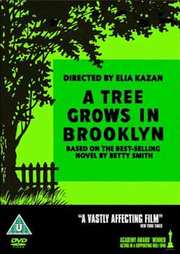 Based on the acclaimed best-selling novel by Betty Smith
Certificate: U
Running Time: 125 mins
Retail Price: £12.99
Release Date:
Content Type: Movie
Synopsis:
Based on the acclaimed best-selling novel by Betty Smith, A Tree Grows in Brooklyn marked the accomplished feature debut of émigré director and three-time Academy Award winner Elia Kazan. Adapted by Frank Davis, Tess Slesinger and Anita Loos, the film relates the trials and tribulations of the Nolans, a turn-of-the-century Brooklyn tenement family. The father (James Dunn) is a likeable but irresponsible pie-in-the-sky alcoholic whose dreams of improving his family`s lot are invariably doomed to disappointment. The mother (Dorothy McGuire) is the true head of the household, steadfastly holding the family together no matter what crisis arises.
Told from the point of view of the Nolan`s adoring daughter (Peggy Ann Garner), A Tree Grows in Brooklyn is an engrossing coming of age tale that resonated with an American nation in need of reassurance. Splendidly evoking New York circa 1900, the film garnered a Best Supporting Actor for James Dunn and was also nominated in the Best Screenplay category. Later it would spawn a Broadway musical and a 1974 TV movie of the same name.
Special Features:
Photo gallery. Cast and crew biographies. Original artwork. Original film brochure.

Directed By:
Elia Kazan

Written By:
Betty Smith
Tess Slesinger
Anita Loos
Frank Davis

Starring:
James Gleason
Lloyd Nolan
James Dunn
Joan Blondell
Dorothy McGuire

Distributor:
Fremantle Media Home Entertainment