Review of Amazing Stories: Series 1
Introduction
When you stop to consider great literature, it`s easy to disregard the short story in favour of epic tomes from the undisputed giants of the written word. But writers like Poe, Asimov and Dickens excelled in the short form. When the object is to put across an idea, it`s often more elegant and effective to do so in 10,000 words instead of developing an opus of ten times that length. Fortunately, there is no such distinction in television. Since the birth of the medium, the short story has thrived in half hour anthology series, and shows like The Outer Limits, The Twilight Zone and Tales Of The Unexpected have produced memorable moments of television. The elegantly told tale, efficient in character development and economic in narrative, invariably with a twist in the tail, can keep audiences glued, provide the springboard for aspiring filmmakers and actors, and supply a nice filler for networks with half an hour to fill.
In 1985, Steven Spielberg produced his own anthology series to add to the genre. Running for 2 seasons, Amazing Stories featured some well-known faces and established directors playing in the half hour format. Unlike its kindred series however, Amazing Stories was weighted to more fun than spookiness, more adventure than eeriness, but still with those trademark twists that mark the typical anthology series.
This release from Universal Playback collects all 24 episodes of the first season, and presents them over four discs.
1. Ghost Train
Directed by Steven Spielberg and starring Lucas Haas, the opener sees a grandfather coming to live with his son`s family. However, his son`s house is built near the site of a horrific train wreck that occurred 75 years previously, and that train is seriously late.
2. The Main Attraction
A popularity contest at a high school takes a turn for the weird when the high school jock gets in the way of a meteorite.
3. Alamo Jobe
The battle of the Alamo is in full rage, and young Jobe is a volunteer helping the brave Texans defend the fort. Then he`s surprised to see tourists turn up in the middle of the mayhem looking for a photo opportunity.
4. Mummy Daddy
Guest starring Brion James and Bronson Pinchot, the filming of a mummy movie is interrupted when the mummy`s wife goes into labour. Not pausing to remove the costume, he rushes off to the hospital, right through a town of rednecks.
5. The Mission
A double length episode from Steven Spielberg sees a World War II bomber get into trouble. The final mission in a tour of duty is typically when a lucky charm becomes a jinx, but lucky charm Jonathan has everything to live for. Starring Kiefer Sutherland and Kevin Costner.
6. The Amazing Falsworth
Peter Hyams directs and Gregory Hines stars in the tale of a professional mind reader that gets into trouble when he reads the thoughts of a passing serial killer.
7. Fine Tuning
Milton Berle has a guest appearance in the story of technically minded schoolboy, whose experiment in building a better TV aerial, picks up the transmissions of another world.
8. Mr Magic
Sid Caesar stars in the tale of an aging magician who`s losing his touch. When he buys an antique deck of playing cards, the act is rejuvenated.
9. Guilt Trip
Burt Reynolds directs, and Dom DeLuise and Charles Durning star in this odd story. The personification of Guilt needs a vacation, so he goes on a cruise.
10. Remote Control Man
A browbeaten husband buys a new TV that literally brings his favourite shows to life. Guest starring eighties icons including Dirk Benedict, Lou Ferigno and Gary Coleman.
11. Santa `85
Father Christmas gets arrested for breaking and entering on Christmas Eve.
12. Vanessa In The Garden
Following the tragic loss of his one true love in an accident, a grieving artist tries to recreate her through his paintings. Directed by Clint Eastwood, and starring Harvey Keitel, Beau Bridges and Sondra Locke.
13. The Sitter
Two young boys are a handful for their mother, and terrorise any babysitter that comes to their house. That`s until they get a sitter who isn`t exactly Mary Poppins.
14. No Day At The Beach
Charlie Sheen stars in a WWII story set on the eve of the American landings in Europe.
15. One For The Road
A group of barflies come up with a life insurance scam. Starring James Cromwell and Joe Pantoliano.
16. Gather Ye Acorns
A young boy eschews his parents` wishes for him to go to medical school, when he is advised by a mischievous spirit to remain a dreamer. Starring Mark Hamill.
17. Boo!
Joe Dante directs, and Bruce Davison and Robert Picardo star in a tale of a haunted house, where the resident ghosts don`t like the calibre of the new residents.
18. Dorothy And Ben
A coma patient wakes suddenly after 40 years, leading to doctors announcing a medical miracle. But this patient is awake for a special reason.
19. Mirror, Mirror
Directed by Martin Scorsese and starring Sam Waterston, this is a tale of a horror writer who finds no thrills in his chosen medium, until one day he spies something in a mirror.
20. Secret Cinema
A girl`s life takes some decidedly odd turns after her fiancé calls off the engagement.
21. Hell Toupee
Irvin Kershner directs this story. A man accused of triple homicide can`t remember a thing about the crimes, except that the mayhem all began when he purchased a new wig.
22. The Doll
John Lithgow stars in this gentle tale of a lonely man who becomes smitten with a doll that he buys for his niece.
23. One For The Books
A university janitor cleans a French classroom one night, and the next morning he wakes up fluent in the language.
24. Grandpa`s Ghost.
Timothy Hutton directs and writes, and Andrew McCarthy stars. A young man learns of his grandfather`s most fervent wish.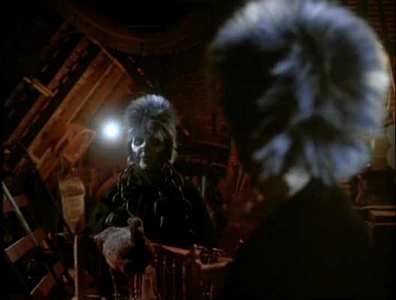 Video
Amazing Stories was shot on film. It`s just wonderful when you come across a US television series like that, because you don`t get soft, smeary, NTSC-o-vision. What you get is a clear and sharp image that looks even better on today`s large flat-screen TVs than it did on the gogglebox of yore.
Amazing Stories typically gets a 4:3 regular transfer and the image is crystal clear, although the colours are a little muted. It`s all film quality, so you can expect some grain and some moments of print damage. The title sequence is one of the earlier CGI presentations, and the effects have held up remarkably well given the pace of technological advancement. It`s a good transfer, and the only improvement could have come from restoration of the original film elements.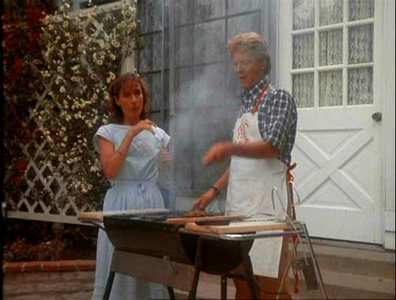 Audio
Amazing Stories gets a DD 5.1 English soundtrack, which is a sight more than most television shows of this vintage achieve. The remix is effective, with the soundstage put to use for effects and music, while dialogue stays firmly front focused. The only subtitle tracks are for the Scandinavian countries, so it`s useful that the dialogue is clear for the most part. Those who are hard of hearing will have to import from Region 1 instead. Just as this series serves as a playground for filmmakers and actors alike, it`s just as true for composers, and while perennial Spielberg collaborator John Williams came up with the series theme, as well as scoring a couple of episodes, other notable composers include James Horner, Jerry Goldsmith, Michael Kamen and Danny Elfman.
I did notice that the sound was off for The Doll. Rather than being centred, the dialogue was distributed around the surround speakers for this episode. This was the only perceivable problem however.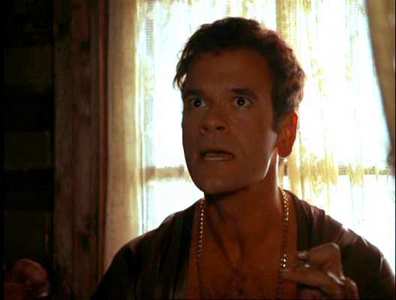 Features
Disc 1 contains the Universal Playback Trailer, while equally spread among all four discs are deleted scenes for The Main Attraction, Guilt Trip, Remote Control Man, Vanessa In The Garden, One For The Road, Gather Ye Acorns, Boo!, Dorothy And Ben, Secret Cinema, The Doll, One For The Books and Grandpa`s Ghost.
Each disc ends with an anti piracy advert, which is just where these things ought to be, if they have to be on DVDs at all.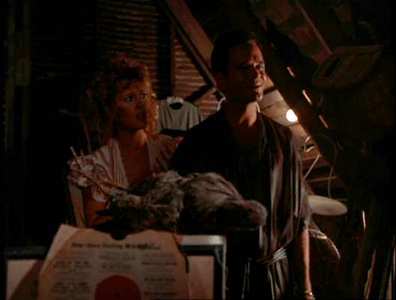 Conclusion
I had vague memories of Amazing Stories as something I enjoyed during my childhood. Placing a disc in my player and being presented by that memorable image of a tribe sharing stories around a campfire brought it all back. Even after the 17 or so years since they were first broadcast in the UK, brief acquaintance with most of these episodes was all I needed to remember how much I had enjoyed them back then. They still hold up well under scrutiny today.
Of course being an anthology show, you would expect the episodes to be somewhat hit and miss. Fortunately there are many more hits and misses in this volume, and it was a rare episode that didn`t hold some entertainment value. Also there are a wide variety of stories to be told, not just 20 minutes of spookiness followed by a twist. There are neatly packaged tales of drama, horror, suspense, comedy, romance, morality tales and variations thereof to be enjoyed. What`s impressive is that some of the stories even manage significant character development in their brief running times, making some episodes doubly satisfying.
While the episodes are memorable, they aren`t really iconic. None have the impact of a `Shatner in an airplane`s, "There`s… something on… the wing!"` Remote Control Man probably comes closest for me, although that`s more because I was a fan of the A-Team and would have loved to be able to materialise them in my living room via my remote control. Other striking episodes include, The Mission, Vanessa In The Garden, No Day At The Beach, Mirror, Mirror, The Doll and Grandpa`s Ghost. The thing is that by this time, television and cinema had become so established that very few of these stories felt utterly fresh. It`s interesting watching Boo! however, as barely three years later Tim Burton would bring us Beetlejuice, which bears more than a passing similarity. Also, Secret Cinema`s parallels to The Truman Show prove that Amazing Stories could be just as inspiring as inspired. I also enjoyed picking out those stars of yesteryear, as well as faces of the future in these stories. Mirror, Mirror even has a brief appearance from a teenaged Jack, from Will and Grace.
Amazing Stories is 5 parts entertainment to 1 part nostalgia. It rarely puts a foot wrong, and even when it does in the execrable Hell Toupee, you know that there is a gripping story just around the corner. The episodes also get decent treatment in this DVD set, with good picture and updated sound bringing out the best in them. Still, I must deliver a slapped wrist for the lack of English subtitles.