Chinese Odyssey 2002 (UK)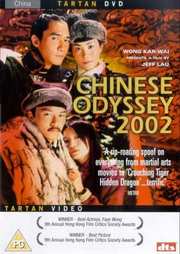 Two pairs of siblings are destined for each other
Certificate: U
Running Time: 86 mins
Retail Price: £19.99
Release Date:
Content Type: Movie
Synopsis:
In Ming Dynasty China, two pairs of siblings are destined for each other. But fate throws countless obstacles in the path of their happiness. One pair is high-born: the young Emperor and his sister Wushuang, both confined to the Imperial Palace and very much under the thumb of their mother, the Empress Dowager. The other pair is decidedly lowborn: the wanderer Li Yilong (known as King Bully for the way he terrorized the town of Meilong in his youth) and his sister Phoenix, who still runs a restaurant in Meilong.

When both the young Emperor and his sister Wushuang contrive to leave the Palace and head south, they meet the loves of their lives in Meilong. But Wushuang has disguised herself as a man, and the Emperor is incognito. Numerous confusions, complications and misunderstandings ensue: genders and gender-roles are reversed, class differences prove hard to negotiate and identities and egos block the promptings of desire. It takes the interventions of a goddess to get everyone back on the right road. But it may be already too late to heal the wounds of disappointment and separation.
Special Features:
Tartan trailer reel.

Video Tracks:
Widescreen Anamorphic 1.78:1

Audio Tracks:
Dolby Digital Stereo 2.0 Mandarin

Subtitle Tracks:
English

Directed By:
Jeffrey Lau

Written By:
Jeffrey Lau

Starring:
Jan Lamb
Rebecca Pan
Athena Chu
Roy Cheung
Chen Chang
Vicki Zhao
Faye Wong
Tony Leung Chiu Wai

Music From:
Roel A. García
Frankie Chan

Director of Photography:
Peter Ngor

Editor:
Wing-ming Wong

Costume Designer:
William Chang

Production Designer:
Tony Au

Producer:
Kar Wai Wong

Executive Producer:
Yongde Zhu
Wai-Chung Chan

Distributor:
Tartan Video