Across 110th Street (UK)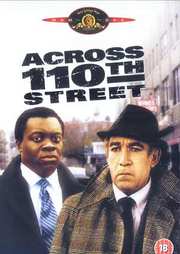 If you steal $300,000 from the mob, it`s not robbery. It`s suicide
Certificate: 18
Running Time: 102 mins
Retail Price: £12.99
Release Date:
Content Type: Movie
Synopsis:
Undeniably one of the toughest and most powerful gangster thrillers of the 70`s, `Across 110th Street` hits hard with a thrill ride through the hell-raisin` hoods of Harlem!

When a crew of gangsters make the fatal mistake of crossing a Mafia heist in Harlem things turn very ugly. But as the bullets start flying and the cops start dying, a pair of New York`s finest are forced to work together to bring justice to the streets, before the Mafia brings the Ghetto to its knees! Up against the Man and The Mob there isn`t anyway these homicidal homeboys are getting across 110th Street..... except in a body bag!

This hair raising cop thriller packs a double barrel of gory vengeance.... raw, ugly and unnervingly real! Also features a great soundtrack including the theme song featured in director Quentin Tarantino`s `Jackie Brown`.
Special Features:


Video Tracks:
Widescreen Anamorphic 1.85:1

Audio Tracks:
Dolby Digital Mono English
Dolby Digital Mono Spanish
Dolby Digital Mono German
Dolby Digital Mono Italian
Dolby Digital Mono French

Subtitle Tracks:
French
CC: German
Italian
Swedish
Finnish
Spanish
CC: English
Dutch
Danish
Norwegian

Directed By:
Barry Shear

Written By:
Wally Ferris
Luther Davis

Starring:
Ed Bernard
Paul Benjamin
Anthony Franciosa
Yaphet Kotto
Anthony Quinn

Distributor:
Metro Goldwyn Mayer