Stargate SG1: Volume 6 (UK)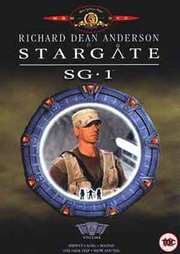 More episodes from the popular TV series
Certificate: 12
Running Time: 170 mins
Retail Price: £19.99
Release Date:
Content Type: TV Series
Synopsis:
Serpent`s Song
The SG-1 team`s mortal enemy, Apophis, is hunted by the Goa`uld and throws himself at O`Neill`s mercy. Tortured and close to death, Apophis proposes a deal, revealing all the knowledge of the Goa`uld in exchange for a new host body. But is it a deal with the devil?

Holiday
An alien traps Jackson with his body-swapping invention, steals Jackson`s body and escapes to Earth. As Jackson lays dying in the alien`s ageing, worn-out body, O`Neill and Teal`c accidentally switch bodies too and unless the alien is captured, no-one will ever be the same!

One False Step
On a routine reconnaissance mission, the SG-1 team discovers a civilisation of friendly aliens, but suddenly, the beings fall ill. A plague, somehow caused by the team, sweeps the planet and O`Neill and Jackson are infected as well. Can the SG-1 team save their friends and a whole civilisation?

Show And Tell
A young boy mysteriously appears at Stargate command and pleads for help, claiming that the Goa`uld are chasing him to find his race of invisible beings. But the SG-1 team is duped as the invisible aliens actually plan to destroy humanity 0 and the invasion has already begun!
Special Features:
Interactive Menus
Scene Access

Video Tracks:
Widescreen Anamorphic 1.78:1

Audio Tracks:
Dolby Digital Surround 2.0 Spanish
Dolby Digital Surround 2.0 German
Dolby Digital 4.0 English

Subtitle Tracks:
CC: German
Spanish
CC: English

Starring:
Vaitiare Bandera
Alexis Cruz
Brent Stait
Don S. Davis
Christopher Judge
Amanda Tapping
Michael Shanks
Richard Dean Anderson

Casting By:
Paul Weber
Mary Jo Slater
Robin Nassif

Soundtrack By:
Tim Truman
Kevin Kiner
Joel Goldsmith
David Arnold

Director of Photography:
Peter F. Woeste

Editor:
Charles Robichaud
Allan Lee
James Ilecic
Daria Ellerman
Richard Benwick

Costume Designer:
Christina McQuarrie

Production Designer:
Richard Hudolin

Producer:
N. John Smith
John G. Lenic
Michael Greenburg
Ron French
Robert C. Cooper

Executive Producer:
Brad Wright
Jonathan Glassner
Richard Dean Anderson

Distributor:
Metro Goldwyn Mayer