A Tale Of Two Sisters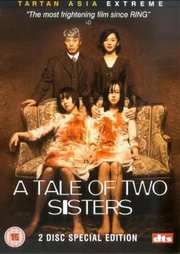 Our sorrow was conceived long before our birth
Certificate: 15
Running Time: 115 mins
Retail Price: £19.99
Release Date:
Content Type: Movie
Synopsis:
Following the death of their mother, sisters Su-mi and Su-yeon are sent to convalesce in a mental hospital. When they are released, they are greeted by their father and taken home. Once there, it becomes obvious that this isn`t the wholesome family unit that the girls` new step mother wishes it was. On their first night home, disturbing and seemingly unexplainable events - footsteps on the stairs, doors opening of their own accord - begin to occur, and strange hallucinations plague the family.

It soon becomes impossible to tell whether it is the sisters` unstable mental health, the cruel mind games played by the step mother, or the dark presence of a supernatural force which is at work within the house. Stylish and shocking, this visually arresting tale of family secrets and uncertain realities is based on a traditional Korean folk tale. Guaranteed to have you gasping for breath with each successive scare, you`ll be kept guessing until the very end of this unique and brilliant film.
Special Features:
Disc One: Director interview. Commentary with director, cinematographer and lighting director. Commentary with director and stars. Original theatrical trailer. Hidden feature: a letter from Su-Yeon.
Disc Two: Behind the scenes. Cast interviews. Deleted scenes. Post production documenatries. To the Viewer - director`s analysis. Psychiatrist`s Perspective. Hidden feature: a letter from Su-mi.

Video Tracks:
Widescreen Anamorphic 1.85:1

Audio Tracks:
DTS 5.1 Korean
Dolby Digital 5.1 Korean

Subtitle Tracks:
English

Directed By:
Ji-woon Kim

Written By:
Ji-woon Kim

Starring:
Geun-yeong Mun
Su-jeong Lim
Jung-ah Yum
Kap-su Kim

Soundtrack By:
Byung-woo Lee

Director of Photography:
Mo-gae Lee

Editor:
Hyeon-mi Lee

Producer:
Jeong-wan Oh
Ki-min Oh

Executive Producer:
Jung-Wan Oh

Distributor:
Tartan Video