Resident Evil (UK)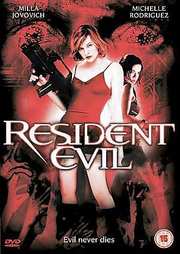 A secret experiment. A deadly virus. A fatal mistake
Certificate: 15
Running Time: 96 mins
Retail Price: £12.99
Release Date:
Content Type: Movie
Synopsis:
Live action adaptation of the computer game, from the director of Event Horizon. Something terrible is lurking in the Hive, a vast underground genetic research facility run by the Umbrella Corporation, a faceless bio-engineering conglomerate. A deadly viral outbreak occurs, and in response, the Red Queen - a vast super computer that controls and monitors the Hive - infects the entire facility to contain the leak, killing all the trapped employees.
Alice (Milla Jovovich) and Rain (Michelle Rodriguez) must lead fellow commandos to isolate the virus that has wiped out Umbrella`s entire research staff. The team soon discovers, however, that the workers are not really…dead. They are now ravenous, zombie-like undead prowling the hive. Will the team defeat the Red Queen and find the anti-virus in time? Or are they doomed to turn Undead? Who, if anyone, will escape the evil Hive alive?
Special Features:
Cast and film-maker`s commentary. Making of Resident Evil (27 mins). 4 production featurettes (11 mins). Teaser trailer. Theatrical trailer. Easter Egg - Slipknot music video.

Video Tracks:
Widescreen Anamorphic 1.85:1

Audio Tracks:
Dolby Digital 5.1 English

Subtitle Tracks:
CC: English

Directed By:
Paul W.S. Anderson

Written By:
Paul W.S. Anderson

Starring:
Milla Jovovich
Michelle Rodriguez
Eric Mabius
James Purefoy
Martin Crewes
Pasquale Aleardi

Casting By:
Robyn Ray
Suzanne Smith

Soundtrack By:
Marco Beltrami
Shawn Crahan
Chris Fehn
Paul Gray
Craig Jones
Joe Jordison
Marilyn Manson
James Root
Tim Skold
Corey Taylor
Mick Thompson
Sid Wilson

Director of Photography:
David Johnson

Editor:
Alexander Berner

Costume Designer:
Richard Bridgland

Production Designer:
Richard Bridgland

Producer:
Paul W.S. Anderson
Jeremy Bolt
Albert Botha
Bernd Eichinger
Mike Gabrawy
Samuel Hadida
Chris Symes

Executive Producer:
Victor Hadida
Daniel S. Kletzky
Robert Kulzer
Yoshiki Okamoto

Distributor:
Pathe