End Of Days (UK)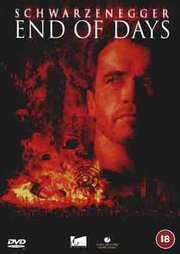 Prepare for the end
Certificate: 18
Running Time: 117 mins
Retail Price: £19.99
Release Date:
Content Type: Movie
Synopsis:
Arnold Schwarzenegger marks his return to action movies, in this dark tale of good versus a powerful evil!

New York City, 1979: In a Manhattan hospital, a newborn child enters the world, a beautiful baby girl. That same day in a lofty cathedral in the Vatican City, a young priest informs the Pope of the birth of the child. Her birth has been feared for centuries. The scripture has indeed proven true: the child, Christine, bears the birthmark of the anti-Christ, and has been chosen for an unholy union.

Following an unorthodox baptism in the hospital`s morgue, she is returned to her mother, as if everything is back to normal. But things are far from normal. The inevitable countdown to doom has begun.

New York City, December 28, 1999: As the world approaches the end of a century and the end of a millennium, it is the beginning of the end.

Jericho Cane (Arnold Schwarzenegger), a beaten down ex-cop, wakes up to another day, oblivious to the struggle that he soon must face. His job as a security specialist alongside his partner Chicago (Kevin Pollak) has become a tireless routine of seedy surveillance jobs, and since the death of his wife and child, everything in life which once held any meaning to him is now gone.

Following a bizarre confrontation with a crazed homeless man warning him of impending doom, Cane rescues a young woman from attackers who have invaded her home. A woman by the name of Christine York (Robin Tunney). He soon finds himself drawn into a heart-stopping game of cat and mouse, as he realizes that she is the key to a supernatural force of terror, born of prophecy long ago foretold.
Special Features:
Interactive Menus
Scene Access
Spotlight On Location Documentary
Special Effects featurette (nine clips)
Two Music Videos
US Theatrical Trailer

Video Tracks:
Widescreen Anamorphic 2.35:1

Audio Tracks:
Dolby Digital 5.1 English
Dolby Digital 5.1 German

Subtitle Tracks:
CC: German
English

Directed By:
Peter Hyams

Written By:
Andrew W. Marlowe

Starring:
Kevin Pollak
Robin Tunney
Gabriel Byrne
Arnold Schwarzenegger

Casting By:
Jackie Burch

Soundtrack By:
Bobbie Mannix
John Debney

Director of Photography:
Peter Hyams

Editor:
Steven Kemper
Jeff Gullo

Production Designer:
Richard Holland

Producer:
Andrew W. Marlowe
Paul Deason
Bill Borden
Armyan Bernstein

Executive Producer:
Thomas A. Bliss
Marc Abraham

Distributor:
Buena Vista