Review of Spaced (Definitive Collector`s Edition)
Introduction
Spaced tells the story of Tim (Simon Pegg) & Daisy (Jessica Stevenson), who meet whilst flat hunting. They concoct a rather simple scheme, and pretend to be a couple in order to secure themselves somewhere to live. Tim is a budding graphic novel artist, Daisy is a budding journalist.
We follow their lives as they live together, and encounter their weird friends and acquaintances, Mike the army man, Twist (really!) the shallow fashion victim, and Brian the mad artist who lives downstairs.
The episodes are as follows:-
Season 1: Beginnings, Gatherings, Art, Battles, Chaos, Epiphanies and Ends.
Season 2: Back, Change, Mettle, Help, Gone, Dissolution and Leaves.
Following an alarming trend, my review set was missing disc 2 so I can`t comment on the episodes or the extras from that disc.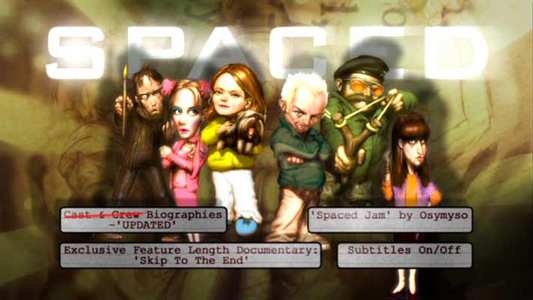 Video
A 1.78:1 anamorphic transfer, as it was first broadcast on Channel 4. The picture on disc 1 has a real softened and washed out look to me, and there`s just something about it that doesn`t look quite right. It`s still watchable though, I just felt that it could have been quite a bit better, even if some of it was supposed to be intentional.
Picture quality on the extras on disc 3 is fine.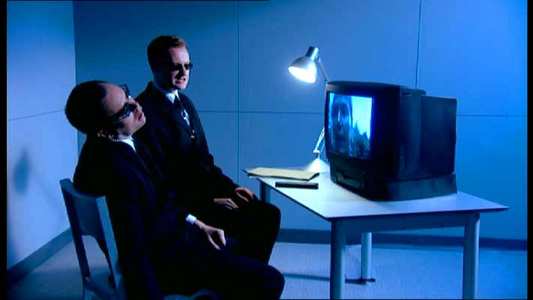 Audio
A DD2.0 stereo soundtrack, again as first broadcast on Channel 4. It`s very good and works well. All dialogue is clean and crisp and everything is audible.
The world of Tim and Daisy is scored with a plethora of achingly hip and funky sounds from various Ministry of Sound Chillout albums, with songs such as Fatboy Slim`s "The Weekend Starts Here", David Holmes` "Rodney Yates" and soundtracks from computer games.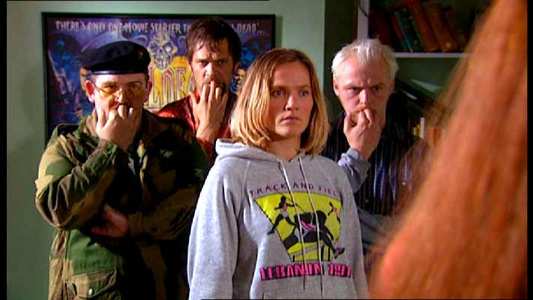 Features
Disc one contains the following:-
A commentary track featuring Simon Pegg, Jessica Stevenson (writers and stars) and Edgar Wright (director). They are joined at various points by other members of cast and crew. They are interesting tracks and tell you plenty about what`s going on, and they all seem to be having fun talking about the show.
Homage-o-meter uses the subtitles to point out where the show is making a reference to a film, piece of art or music. This is new to season 1 in this release. Those of you who watch lots of film and TV will probably spot them anyway, but there are certainly some obscure ones in there. You may have come across this sort of feature on various Dr Who DVDs.
Biographies - the usual cast and crew, but don`t skip over this section or you`ll miss the chance to read the biographies of the characters - a funny section.
Trailers - better trailers than normal, just as amusing as the show.
Out-takes - a very funny section, with some quality corpsing and some very funny scenes.
There are also deleted and extended scenes with optional commentary track. They vary in quality, some should have been left in, some were rightly left out.
Raw Footage is a collection of other stuff from behind the scenes.
Disc three contains the most new stuff.
Spaced Jam by Osymyso. An amusing music video cut together from clips of the series. Very funny.
Skip To The End is the main extra, a new documentary about the series. Introduced by the 2 stars and the director, the first thing you`ll notice is how much Jessica Stevenson has changed since those early episodes! It covers the series from start to end, from how they all met and came up with the series, through filming and the show becoming a cult hit, visiting some of the locations on the way.
Very interesting and very worth watching.
We round off with new cast and crew biographies.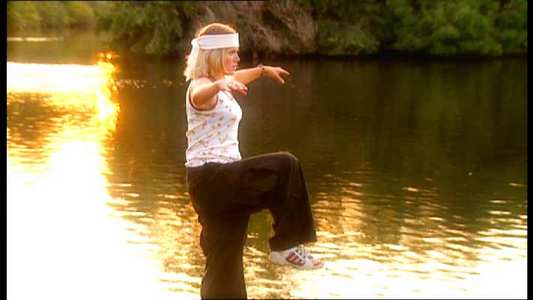 Conclusion
A very amusing series on a good value DVD set. It`s not a show full of belly laughs, and there are plenty of much more subtle gags and amusing homages. If you like a bit of sci-fi and a bit of comedy then this must be the show for you. If sci-fi is not your area then it might put you off a bit, but you should still find something to amuse you.
The crucial question is do you upgrade if you own previous releases? Very much a personal choice on this one I think. The homage-o-meter that`s been added to season 1 is alright, but I wouldn`t consider it essential. Disc three is the important one, with over an hour`s worth of new material in the documentary and the amusing music video. But is it really worth forking out again? Perhaps if you can get the new set cheap and flog your old discs on eBay, you might consider it.
A great show packaged up on a great three disc set.