Japanese Story (UK)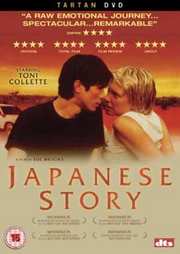 Beautifully observed emotionally charged and full of unforeseen surprises
Certificate: 15
Running Time: 102 mins
Retail Price: £19.99
Release Date:
Content Type: Movie
Synopsis:
To those around her, Sandy is the archetypal Australian woman - bold, brash, confident and up to any challenge. But when she is charged with playing tour guide to a Japanese businessman who is a potential investor in her company, it is not a task she relishes. Driving across the vast Australian outback, cultural and personal differences make for an uncomfortable ride. Hiromitsu`s uncommunicative manner and sexist comments irritate Sandy, but she must keep her feelings to herself if she is to prevent offending her company`s guest.
For Hiromitsu, Sandy is everything that he finds unappealing about western women - she is loud, aggressive and headstrong. However, they soon find they are attraction to each other, and an unusual and intense relationship develops. Beautifully observed, emotionally charged and full of unforeseen surprises, this unique film features a blistering performance by Toni Collette.
Special Features:
Commentary with Sue Brooks, writer Alison Tilson and producer Sue Maslin. Deleted scene with optional commentary. Making of featurette. Original theatrical trailer. Tartan trailer reel.

Video Tracks:
Widescreen Anamorphic 1.85:1

Audio Tracks:
Dolby Digital 5.1 English
DTS 5.1 English
Dolby Digital Stereo 2.0 English

Directed By:
Sue Brooks

Written By:
Alison Tilson

Starring:
Yumiko Tanaka
Lynette Curran
Matthew Dyktynski
Gotaro Tsunashima
Toni Collette