Welcome To Mooseport (UK)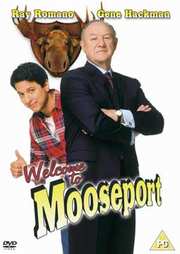 This town isn`t small enough for the both of them
Certificate: PG
Running Time: 110 mins
Retail Price: £15.99
Release Date:
Content Type: Movie
Synopsis:
When Monroe "Eagle" Cole (Gene Hackman) reaches the end of his Presidential run with the highest approval rating of any departing U.S. President, he sees his future filled with profitable speaking engagements and plans to write his autobiography. His greedy ex-wife Charlotte (Christine Baranski) has taken Monroe for all she can in the divorce settlement, so he chooses to reside at his summer house in the colourful town of Mooseport, Maine.
Shortly after arriving in the small town, Monroe learns that the local Mayor has recently passed away and the local council wants to offer the top job to him. After some thought, Monroe decides to accept - mainly for the publicity, but he doesn`t count on local competition from handyman and hardware store owner Handy Harrison (Ray Romano)!
Special Features:
6 deleted scenes. Outtakes reel. 2 commercials. 2 Easter Eggs. Inside look - Garfield and Dodgeball.

Video Tracks:
Widescreen Anamorphic 1.85:1

Audio Tracks:
Dolby Digital 5.1 English

Subtitle Tracks:
CC: English

Directed By:
Donald Petrie

Written By:
Tom Schulman
Doug Richardson

Starring:
Christine Baranski
Maura Tierney
Marcia Gay Harden
Ray Romano
Gene Hackman

Distributor:
Twentieth Century Fox