Looney Tunes: Back In Action (Widescreen) (UK)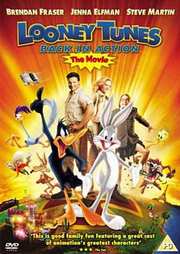 Real life has never been so animated
Certificate: PG
Running Time: 92 mins
Retail Price: £15.99
Release Date:
Content Type: Movie
Synopsis:
Yikes! The fate of the human race is in the hands of Bugs Bunny and Daffy Duck, teaming to wreck hilarious comic mayhem in a fast-paced family adventure combining live-action (starring Brendan Fraser, Jenna Elfman, Steve Martin and more) with animation (a hiliarious calvacade of Looney Tunes greats).

Join the Tunesters as they try to obtain the powerful Blue Monkey gem and stop Acme Corp.`s grab for weirdwide worldwide domination. Connect with your inner Daffy for hare-brained wit and mystery most fowl. For pratfalls and movie in-jokes. For Acme anvils. For more fun than you can catch in just one viewing. The Looneytics are running the asylum.

Welcome to their world.
Special Features:
Looney Tunes Back In Action: Best Scenes You`ve Never Seen
Behind The Tunes: Bugs and Daffy take you on a looney tour of the film set
Bang Crash Boom: The Rabbit and Duck Perspectives on the Special Effects
Whizzard Of Ow: Looney Tunes Short
Theatrical Trailer
DVD-ROM PC link to even more deleted scenes

Video Tracks:
Widescreen Anamorphic 2.40:1

Audio Tracks:
Dolby Digital 5.1 English

Subtitle Tracks:
French
English
Dutch
Arabic

Directed By:
Joe Dante

Written By:
Larry Doyle

Starring:
Brendan Fraser
Jenna Elfman
Steve Martin
Timothy Dalton
Heather Locklear
Joan Cusack

Casting By:
Mary Gail Artz
Barbara Cohen

Soundtrack By:
John Debney
John Frizzell
Jerry Goldsmith

Director of Photography:
Dean Cundey

Editor:
David L. Bertman
Rick Finney
Marshall Harvey
Jason Tucker

Costume Designer:
Mary E. Vogt

Production Designer:
Bill Brzeski

Producer:
Allison Abbate
Chris De Faria
Christopher DeFaria
Bernie Goldmann
Joel Simon
Paula Weinstein
Steven Wilzbach

Executive Producer:
Larry Doyle

Distributor:
Warner Bros