Fear X (UK)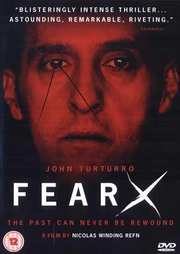 When he closes in on the potential killer, his world is turned upside down yet again
Certificate: 12
Running Time: 87 mins
Retail Price: £15.99
Release Date:
Content Type: Movie
Synopsis:
In Nicolas Winding Refn`s Fear X, John Tuturro is Harry Caine, an everyman shopping mall security guard who is desperately searching for a reason for the murder of his wife. He spends his nights watching CCTV footage to see if there is a face that might give him a clue. His walls are plastered with "suspects" and when he closes in on the potential killer, his world is turned upside down yet again.
Special Features:
Photos/stills. Behind the scenes. Trailers from Pusher and Bleeder. Biographies. Nicolas Winding Refn and critic commentary. Colour booklet

Directed By:
Nicolas Winding Refn

Written By:
Nicolas Winding Refn
Hubert Selby Jr.

Starring:
Gene Davis
William Allen Young
Stephen McIntyre
Deborah Unger
John Turturro

Casting By:
Penny Perry
Carrie Hilton

Soundtrack By:
J. Peter Schwalm
Brian Eno

Director of Photography:
Larry Smith

Costume Designer:
Darena Snowe

Production Designer:
Peter De Neergaard

Producer:
Rupert Preston
Aaron Kim Johnston
Henrik Danstrup
Johnny Andersen

Executive Producer:
Mark Vennis
Nadia Redler
Kenneth D. Plummer
Gary Phillips
Joseph Newton Cohen
Donald C. Archbold

Distributor:
Matrix