Independence Day (US)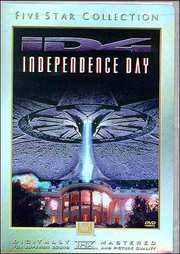 EARTH Take a good look. It could be your last
Certificate: PG-13
Running Time: 153 mins
Retail Price: $34.98
Release Date:
Content Type: Movie
Synopsis:
One of the biggest box office hits of all time delivers the ultimate encounter when mysterious and powerful aliens launch an all-out invastion against the human race.

The spectacle begins when massive spaceships appear in Earth`s skies. But wonder turns to terror as the ships blast destructive beams of fire down on cities all over the planet.

Now the world`s only hope lies with a determined band of survivors, uniting for one last strike against the invaders, before it`s the end of mankind.
Special Features:
Disc One: The Feature
Includes the Special Edition, with 9 Minutes of Restored Footage, Plus the Original Theatrical Versions
Scene-Specific Commentary by Roland Emmerich and Dean Devlin
Commentary by Oscar-Winning Special Effects Supervisors Volker Engel and Doug Smith

Disc Two: Supplemental
"Creating Reality" 30-Minute Documentary on the Making Of ID4
"ID4 Invasion" 22-Minute Alien Invasion Mock-Umentary
"HBO First Look: Independence Day" 33-Minute Featurette Hosted By Jeff Goldblum
Original Biplane Ending Sequence
Storyboards, Original Artwork, Production Stills
DVD-ROM Game "Get Off My Planet"
DVD-ROM Link to "ID4 on-line" Game: Includes One Free Month Of Interactive Access
Live on-line Event
Theatrical Trailers
TV Spots

Video Tracks:
Widescreen Anamorphic 2.35:1

Audio Tracks:
Dolby Digital 5.1 English
Dolby Digital Surround 2.0 English
Dolby Digital Surround 2.0 French

Subtitle Tracks:
English
Spanish

Directed By:
Roland Emmerich

Written By:
Roland Emmerich
Dean Devlin

Starring:
Brent Spiner
Adam Baldwin
Harvey Fierstein
Randy Quaid
Robert Loggia
Judd Hirsch
Mary McDonnell
Jeff Goldblum
Bill Pullman
Will Smith

Casting By:
Wendy Kurtzman

Soundtrack By:
David Arnold

Director of Photography:
Karl Walter Lindenlaub

Editor:
David Brenner

Costume Designer:
Joseph A. Porro

Production Designer:
Patrick Tatopoulos
Oliver Scholl

Producer:
Peter Winther
Dean Devlin

Executive Producer:
William Fay
Ute Emmerich
Roland Emmerich

Distributor:
Twentieth Century Fox