EDtv (UK)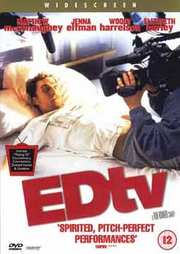 Fame. Be careful. It`s out there
Certificate: 12
Running Time: 118 mins
Retail Price: £19.99
Release Date:
Content Type: Movie
Synopsis:
It`s the unforgettable story of a nobody... that everybody`s watching!

Matthew McConaughey and Jenna Elfman star in the hilarious romantic comedy Joel of `Good Morning America` calls "Big-Laugh Funny."

Ed Pekurny (McConaughey) is just a regular guy who feels he has nothing to lose by agreeing to be a star of a new reality-based TV show. Almost overnight, the program becomes a hit, and suddenly this goofy but engaging video clerk is a national celebrity! Everything`s fabulous... until Ed falls head over heels for Shari (Elfman), the girlfriend of his brother Ray (Woody Harrelson). Suddenly their most private moments become public entertainment - and the ratings go through the roof - as millions of fans tune in to watch a real soap opera filled with comedy and romance.

Superbly directed by Ron Howard and featuring a stellar supporting cast including Elizabeth Hurley, Sally Kinnard, Martin Landau, Ellen DeGeneres, Rob Reiner and Dennis Hopper, EDtv is a outrageous look at instant fame, overnight success, and sharing your life with a few million of your closest fans.
Special Features:
Interactive Menus
Scene Access
`Caught In The Camera`s Eye` Making Of Featurette
Two feature-length Commentaries (Director and Writers)
Deleted Scenes
Out-takes
Music Highlights
Production Notes
Theatrical Trailer
Cast & Filmmaker`s Notes

Video Tracks:
Widescreen Anamorphic 1.85:1

Audio Tracks:
Dolby Digital 5.1 French
Dolby Digital 5.1 German

Subtitle Tracks:
Polish
Czech
Swedish
Finnish
English
German
Greek
Dutch
Danish
Norwegian

Directed By:
Ron Howard

Written By:
Babaloo Mandel
Lowell Ganz
Sylvie Bouchard
Émile Gaudreault

Starring:
Dennis Hopper
Elizabeth Hurley
Rob Reiner
Martin Landau
Sally Kirkland
Woody Harrelson
Jenna Elfman
Ellen DeGeneres
Matthew McConaughey

Casting By:
Jane Jenkins
Janet Hirshenson

Soundtrack By:
Randy Edelman

Director of Photography:
John Schwartzman

Editor:
Mike Hill
Daniel P. Hanley

Costume Designer:
Rita Ryack

Production Designer:
Michael Corenblith

Producer:
Louisa Velis
Ron Howard
Brian Grazer

Executive Producer:
Richard Sadler
Michel Roy
Todd Hallowell

Distributor:
Universal Pictures