Sunrise (UK)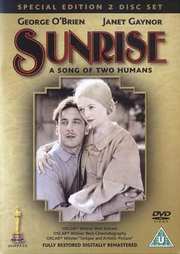 One of the most moving stories ever told on screen
Certificate: U
Running Time: 91 mins
Retail Price: £22.99
Release Date:
Content Type: Movie
Synopsis:
F.W. Murnau, Germany`s finest director, was imported to Hollywood in July 1926. William Fox of the Fox Film Corporation promised and gave him complete artistic freedom. Fox told Murnau to take his time, spend whatever he had to, and make any film he wished to make. The film that resulted was Sunrise, made entirely without studio interference. In 1927-28, Sunrise was awarded a special Oscar for "Unique and Artistic Picture" (the only time the award was ever given). In 1967, Cahiers du cinéma named it "the single greatest masterwork in the history of the cinema."

Sunrise, a psychological thriller from the silent movie era, begins when the pleasant and peaceful life of a naive country Man (George O` Brien) is turned upside down when he falls for a cold-blooded yet seductive woman from the city (Margaret Livingston). She persuades him to drown his virtuous wife (Janet Gaynor)in order to be with her. This is one of the most moving stories ever told on screen - a tale of temptation, reconciliation, reconsecration, and redemption, told with a lyrical simplicity that gives it the timeless universality of a fable.
Special Features:
Documentary by film historian R.Dixon Smith. Original English intertitle cards. Commentary track by ASC cinematographer John Bailey. Outtakes with optional commentary. The original scenario by Carl Mayer with F.W. Murnau`s handwritten annotations. The original Sunrise screenplay. 4 Devils reconstruction, treatment and screenplay. Stills gallery. Original theatrical trailer. Restoration notes.

Directed By:
F.W. Murnau

Written By:
H.H. Caldwell
Katherine Hilliker
Carl Mayer
Hermann Sudermann

Starring:
J. Farrell MacDonald
Bodil Rosing
Margaret Livingston
Janet Gaynor

Soundtrack By:
Erno Rapee
R.H. Bassett
Hugo Riesenfeld
Timothy Brock

Director of Photography:
Karl Struss
Charles Rosher

Editor:
Harold D. Schuster

Producer:
William Fox

Distributor:
Eureka Video