Basket Case: 20th Anniversary Special Edition (US)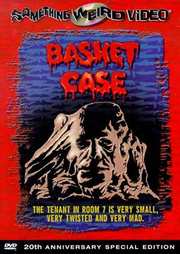 The Tenant In Room 7 Is Very Small, Very Twisted And Very Mad
Certificate: none
Running Time: 91 mins
Retail Price: $14.99
Release Date:
Content Type: Movie
Synopsis:
Carrying a mysterious wicker basket around with him, Duane Bradley arrives in Manhattan and checks into a sleazy Times Square hotel. What`s in the basket, you ask? Why, Duane`s hideously misshapen Siamese twin brother, Belial, of course! Originally born attached to Duane`s side, the little monster was surgically removed by some quack doctors and rudely left for dead in a plastic garbage bag. But Belial survived, and Duane has hit the Big Apple with his beastly bro to wreak havoc on the surgeons who separated them. Things get complicated, however, when Duane gets romantically sidetracked by the sexy, wig-wearing receptionist of one of the doomed doctors, and his jealous telepathic sibling reacts well, poorly.

With memorably gruesome scenes (the multiple scalpels stuck in a screaming face is a particular favorite) and some disturbing stop-motion animation, Frank Henenlotter`s Basket Case - finally available in a Special Edition DVD - is one of the most beloved, cheerfully demented cult classics of all time, and a midnight movie hit that inspired two sequels.
Special Features:
Audio Commentary by Director Frank Henenlotter, Producer Edgar Ievins, and Actress Beverly Bonner
Two Theatrical Trailers, Plus TV Spot
One-of-a-Kind Outtakes and Behind-the-Scenes Footage from the Director`s Personal Collection
Special Video Short: In Search of the Hotel Broslin
Gallery of Basket Case Exploitation Art and Never-Before-Seen Behind-The-Scenes Photos
Two Rare Basket Case Radio-Spots
Two Radio Interviews with Actress Terri Susan Smith
Clips from Beverly Bonner`s Comedy Cable TV Show, "Beverly Bonner`s Laugh Track"

Video Tracks:
Standard 1.33:1

Audio Tracks:
Dolby Digital Mono English

Directed By:
Frank Henenlotter

Written By:
Frank Henenlotter

Starring:
Diana Browne
Robert Vogel
Beverly Bonner
Terri Susan Smith
Kevin VanHentenryck

Soundtrack By:
Gus Russo

Director of Photography:
Bruce Torbet

Editor:
Frank Henenlotter

Producer:
Edgar Ievins
Arnold H. Bruck

Distributor:
Image Entertainment