S.O.D.: Kill Yourself The Movie (US)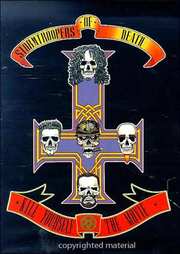 Who theihell are these guys?
Certificate: none
Running Time: 160 mins
Retail Price: $20.98
Release Date:
Content Type: Musical Recording
Synopsis:
Who the hell are these guys? The ultimate metal/hardcore crossover? A comic book gone awry? A side project born out of utter boredom? Four guys that met at a bus stop? Or, are Charlie Benante, Scott Ian, Danny Lilker and Billy Milano really terrorists under the guise of "witty musicians", being controlled by great conspiratorial forces of the secret organization known as the Crab Society? Supposedly headed by the international criminal mastermind Harry Wu (just to whisper his name is to invite a world of pain to your doorstep!), the Crab Society has unleased S.O.D. every seven years since 1985 onto an unwitting public, spreading their message of evil throughout the world! Coincidence? I think not. Only you can decide.

Lo, things of such great importance are revealed in this film as to shake the very foundations of our society! Be forewarned, this film will offend you, no doubt. With it`s brutal uncompromising music, politically incorrect humor, and total disregard for animal safety, S.O.D. has found a way to offend everyone. And if you are not offended, well then you`ve been brainwashed into One Of Them!

This is their plan! My God man, at all costs, they must be stopped!
Special Features:
Additional Commentary
60 Minute Bonus Live Show

Video Tracks:
Standard 1.33:1

Audio Tracks:
PCM Stereo

Music From:
S.O.D.

Distributor:
Nuclear Blast