Avengers, The, The Definitive Dossier 1968 (File 1) (UK)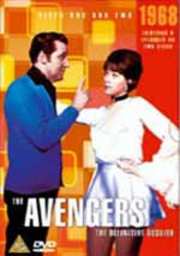 Flashback to the Sixties with the coolest duo in crimefighting!
Certificate: PG
Running Time: 400 mins
Retail Price: £24.99
Release Date:
Content Type: TV Series
Synopsis:
Features the episodes:
Invasion of the Earthmen
In which Steed has a close escape, and Tara has a close encounter.

The Curious Case of the Countless Clues
In which Steed knocks on wood, and Tara gets the chop.

Split!
In which Steed studies handwriting, and Tara is nearly in two minds.

Get-A-Way!
In which Steed drinks a spy`s health, and Tara looks at lizards.

Have Guns - Will Haggle
In which Steed hunts for a special gun, and Tara hunts with one.

Look - (stop me if you`ve heard this one) But There Were These Two Fellers...
In which Steed goes on the stage, and Tara fails to see the joke.

My Wildest Dream
In which Steed goes to the doctor, and Tara throws a shoe.

Whoever Shot Poor George Oblique Stroke XR40?
In which Steed enters the computing world, and Tara becomes a niece.
Special Features:


Video Tracks:
Standard 1.33:1

Audio Tracks:
PCM Stereo

Starring:
Diana Rigg
Honor Blackman
Patrick Macnee