Vampires (UK)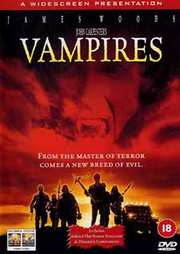 From the master of terror comes a new breed of evil
Certificate: 18
Running Time: 103 mins
Retail Price: £19.99
Release Date:
Content Type: Movie
Synopsis:
The blood confrontation of the ages is about to begin.

In the blood-chilling tradition of `Halloween` and `Village Of The Damned` comes John Carpenter`s unique vision of the ultimate killing machines, `Vampires`. "Forget everything you`ve heard about vampires," warns Jack Crow (James Woods), the leader of Team Crow, a relentless group of mercenary vampire slayers.

When Master vampire Valek (Thomas Ian Griffith) decimates Jack`s entire team, Crow and the sole team survivor, Montoya (Daniel Baldwin), set out in pursuit. Breaking all the rules, Crow and Montoya take one of Valek`s victims hostage. The beautiful prostitute (Sheryl Lee) is their sole psychic link to Valek, and through her senses they will track down the leader of the undead.

As Valek nears the climax of his 600-year search for the Berziers Cross, Jack and the new Team Crow do everything humanly possible to prevent him from possessing the only thing that can grant him and all the vampires the omnipotent power to walk in the daylight.
Special Features:
Interactive Menus
Scene Access
Filmographies
Behind-The-Scenes Featurette
Director`s Commentary
Theatrical Trailer

Video Tracks:
Widescreen Letterbox 2.35:1

Audio Tracks:
Dolby Digital 5.1 English
Dolby Digital 5.1 Spanish

Subtitle Tracks:
Icelandic
Czech
Swedish
Finnish
English
Spanish
Dutch
Danish
Norwegian

Directed By:
John Carpenter

Written By:
Dan Mazur
John Steakley
Don Jakoby

Starring:
Thomas Ian Griffith
Daniel Baldwin
Maximilian Schell
Sheryl Lee
James Woods

Casting By:
Reuben Cannon
Eddie Dunlop

Soundtrack By:
John Carpenter

Director of Photography:
Gary B. Kibbe

Editor:
Edward A. Warschilka

Costume Designer:
Robin Michel Bush

Production Designer:
Thomas A. Walsh

Producer:
Don Jakoby
Sandy King

Executive Producer:
Barr B. Potter

Distributor:
Columbia Pictures