Breakheart Pass (UK)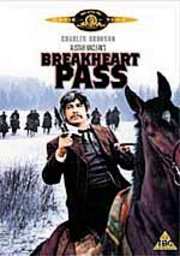 Death rode the rails to Breakheart Pass
Certificate: PG
Running Time: 0 mins
Retail Price: £12.99
Release Date:
Content Type: Movie
Synopsis:
Set at the height of the frontier era, this is a thrilling story of a doomed train on a secret mission to an army outpost in the Rocky Mountains.
But as the train races to its destination, some of its passengers are mysteriously murdered. John Deacon (Bronson), a prisoner being transported to custody by U.S. Marshal Nathan Pearce - played by BEN JOHNSON (The Last Picture Show) - is forced to fight for his life and uncovers a deadly secret.

Action packed with blazing gun fights and with a terrific cast, including RICHARD CRENNA (First Blood) and JILL IRELAND (Death Wish II), it`s a guaranteed suspenseful ride.
Special Features:


Directed By:
Tom Gries

Written By:
Alistair MacLean

Starring:
Charles Durning
Jill Ireland
Richard Crenna
Ben Johnson
Charles Bronson

Soundtrack By:
Jerry Goldsmith

Director of Photography:
Lucien Ballard

Producer:
Elliott Kastner
Jerry Gershwin

Distributor:
Metro Goldwyn Mayer