Jackie Brown: Collector`s Edition (2 Disc Set) (US)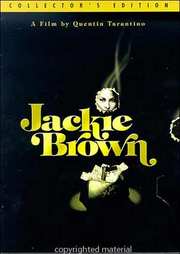 Six players after half a million dollars. But who`s playing who?
Certificate: R
Running Time: 154 mins
Retail Price: $29.99
Release Date:
Content Type: Movie
Synopsis:
From filmaking sensation Quentin Tarantino comes this edgy, critically-acclaimed action thriller starring some of the biggest names in Hollywood including Samuel L Jackson, Robert De Niro, Michael Keaton and Bridget Fonda.

What do a sexy stewardess, a street-tough, gun runner, a lonely bail bondsman, a shifty ex-con, an overambitious cop and a stoned-out beach bunny have in common? They`re all chasing a half million in cash. The only questions among these players are who`s conning who...and who`ll walk away with the goods?

Loaded with a characteristically unique combination of intense action and sly homour, Tarantino scores again with the wildly entertaining Jackie Brown.
Special Features:
Quentin Tarantino Introductions
Jackie Brown: How It Went Down Documentary
"A Look Back At Jackie Brown" Interview With Quentin Tarantino
Chicks With Guns Video
Deleted and Alternate Scenes
Siskel & Ebert "At the Movies" Jackie Brown Review
Jackie Brown on MTV
Pam Grier Movie Trailers
Robert Foster Movie Trailers
Pam Grier Movie Radio Spots
Jackie Brown Theatrical Trailers
TV Spots
Still Galleries
Reviews & Articles
Filmographies
Enhanced Playback Track: DVD-ROM Feature
Trivia Game: DVD-ROM Feature
Screenplay Viewer: DVD-ROM Feature

Video Tracks:
Widescreen Anamorphic 1.85:1

Audio Tracks:
Dolby Digital 5.1 English
Dolby Digital Stereo 2.0 French
DTS 5.1 English

Subtitle Tracks:
Spanish

Directed By:
Quentin Tarantino

Written By:
Quentin Tarantino

Starring:
Bridget Fonda
Robert Forster
Robert De Niro
Samuel L. Jackson
Michael Keaton
Pam Grier

Director of Photography:
Guillermo Navarro

Editor:
Sally Menke

Costume Designer:
Mary Claire Hannan

Production Designer:
David Wasco

Producer:
Paul Hellerman
Lawrence Bender

Executive Producer:
Richard N. Gladstein
Harvey Weinstein
Elmore Leonard
Bob Weinstein

Distributor:
Buena Vista