Final Destination (Australia)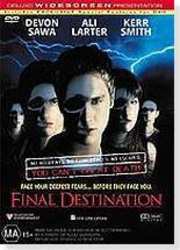 You can`t cheat death
Certificate: MA
Running Time: 98 mins
Retail Price: 29.95
Release Date:
Content Type: Movie
Synopsis:
Alex has a premonition that a flight he`s on, headed to France, will crash. He tells everyone to get off the ill-fated aircraft. Seven people including Alex, are forced to disembark. Moments later in the departure lounge the students see the plane explode before their very eyes.

Now the FBI thinks that Alex had something to do with it and follow his every move. His friends also start to become suspicious and slowly fade out of his life. But now, each one of his friends is being stalked and killed by the Grim Reaper, Death, who is intent on collecting the souls of those who cheated it.

Includes two games as extra features: Your Psychic Eye, and Death Watch, which cheerfully tells you the date your going to die!
Special Features:
Commentary by director James Wong
Commentary by writer/producer Glen Morgan
Isolated musical score
Documentaries - 1: A Look at Test Screening 2: Premonitions
Theatrical Website

Video Tracks:
Widescreen Anamorphic 1.85:1

Audio Tracks:
Dolby Digital 5.1 English

Directed By:
James Wong

Written By:
Jeffrey Reddick
James Wong
Glen Morgan
Jeffrey Reddick

Starring:
Roger Guenveur Smith
Daniel Roebuck
Kristen Cloke
Kerr Smith
Ali Larter
Devon Sawa

Casting By:
John Papsidera

Soundtrack By:
Shirley Walker

Director of Photography:
Robert McLachlan

Editor:
James Coblentz

Costume Designer:
Jori Woodman

Production Designer:
John Willett

Producer:
Warren Zide
Art Schaeffer
Craig Perry
Glen Morgan
Chris Bender

Executive Producer:
Brian Witten
Richard Brener